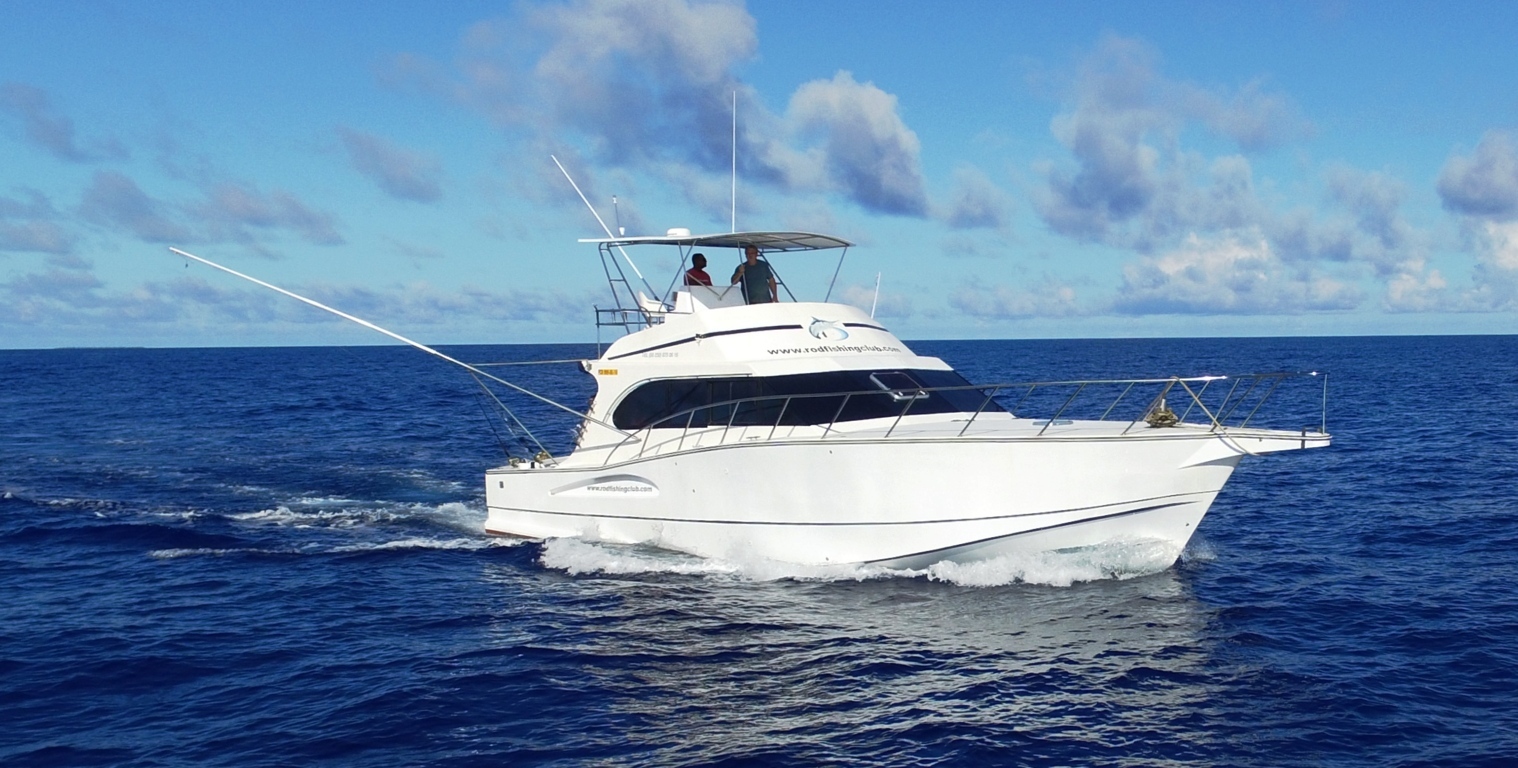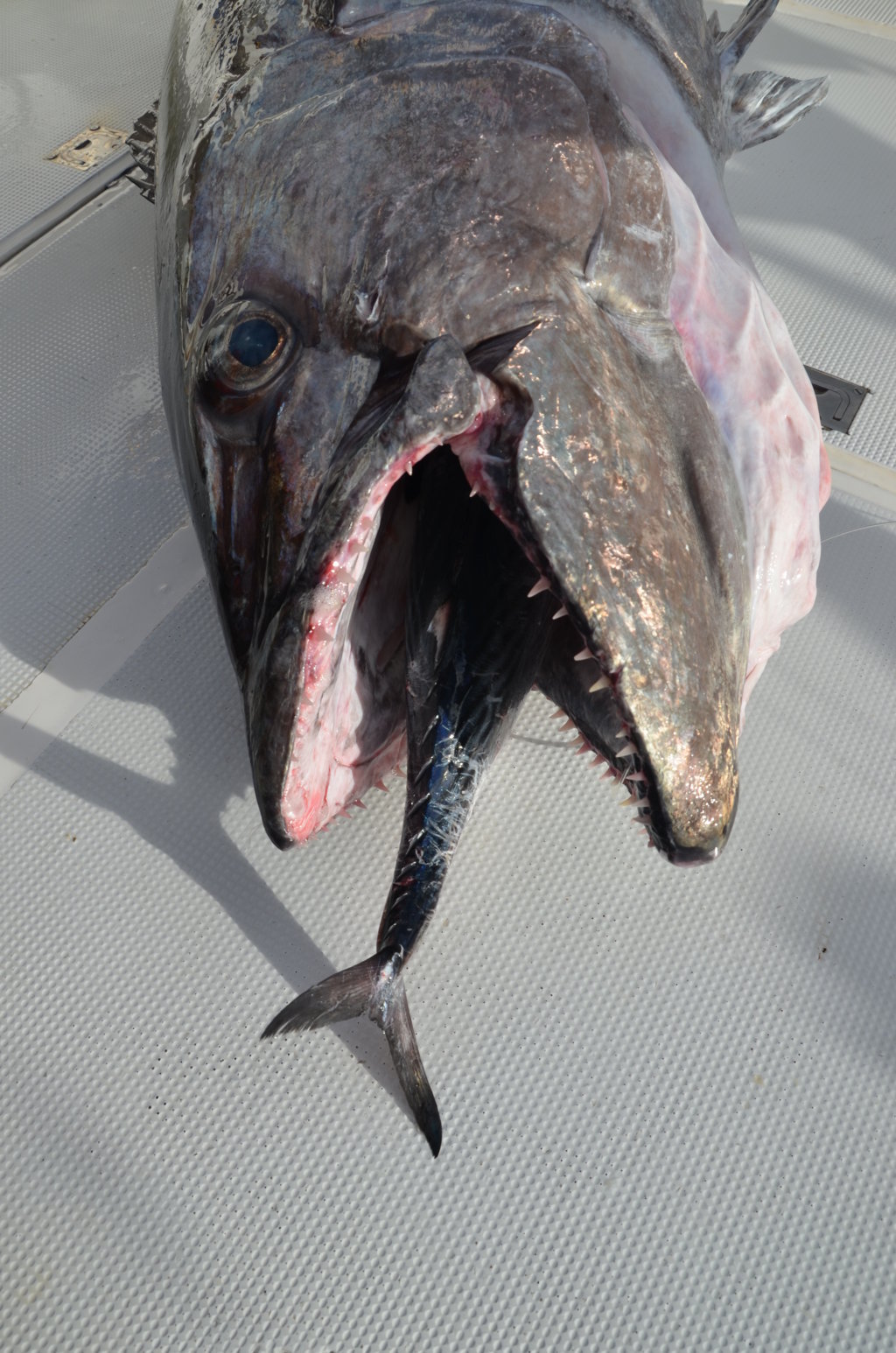 If conventional trolling is the ideal solution to prospect grounds and cover large areas looking for fish, bait fishing is perfectly adapted to look for big pelagic fish as well as reef fish on "hot spots".
On 13 March 2008, Paul Cuzak establishes our club record, on baiting, with a 57.5kg giant trevally.
On 14 February 2010, William Klein breaks up the junior word record with a 43kg giant trevally on baiting
On 23 October 2014 Charles Rubis (France), on baiting (with a live bait on a VMC circle-hook) catches a 97kg dogtooth tuna. This fish weighted 17h later boded to be over 100kg on caught.
2 other big dogtooth tunas of 89kg and 83kg were caught on January 2015 on baiting.
It can be realized in different ways:
 With live or dead bait (whole or pieces).
 Slow trolling or drifting.
As you can see, possibilities are opened!

From bottom fishing to slow trolling, above reefs or on the reefs, with 2 live baits, techniques are numerous and you will appreciate to be aboard a multi fishing boat.

Baiting is opportune as the crew perfectly masters the area.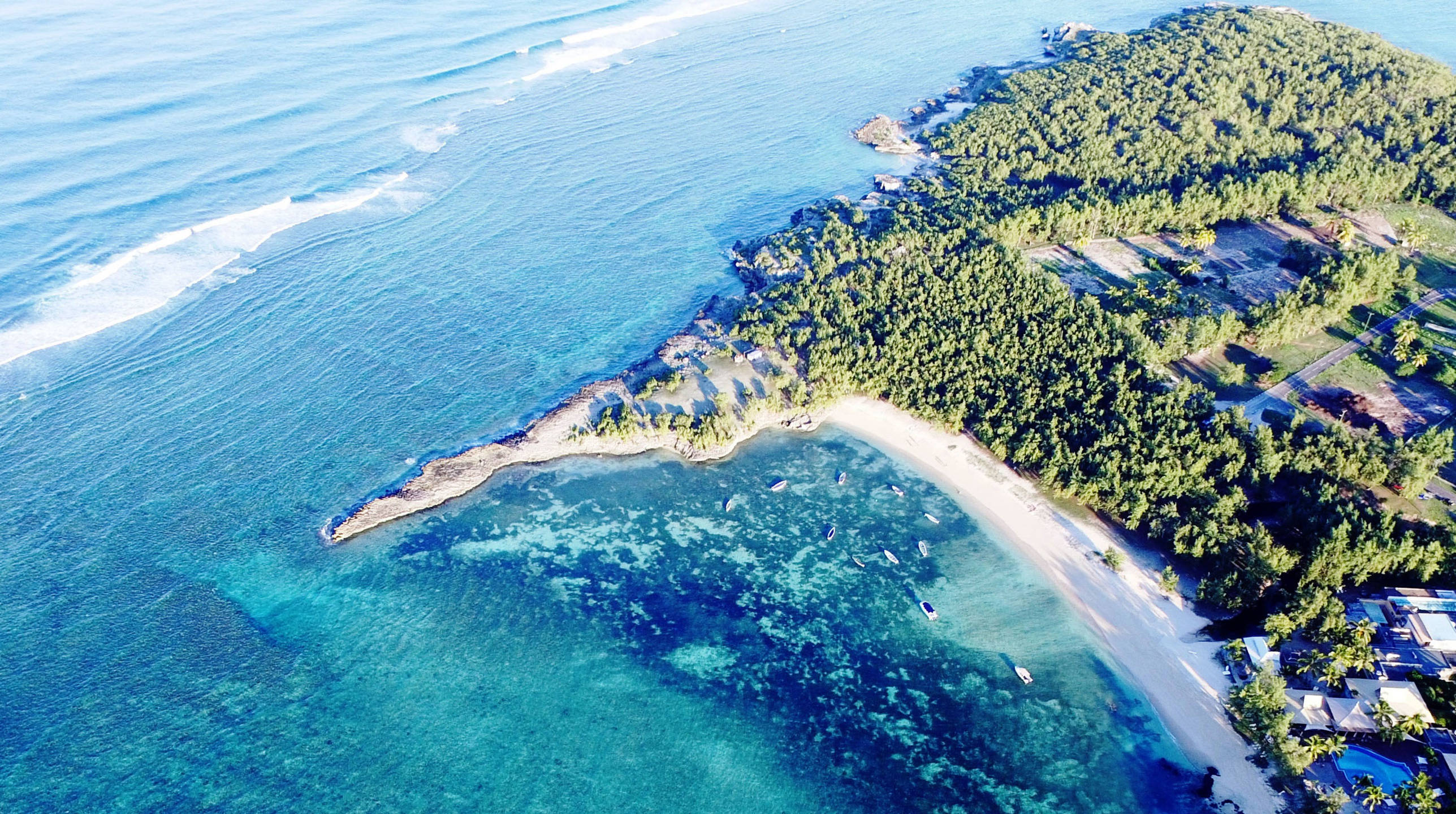 TECHNIQUES
Baiting is practised in fish concentration areas (underwater structures, clustering of forage fish, fish chases…). Our principle is as follows: a bigger one eats every small fish. We shall then use bonitos, yellowfin tunas, small trevallies or small dogtooth tunas or reef fish as live baits. According to activity and baits in stock, the crew will choose between:
- Drifting with live or dead bait for dogtooth tuna, giant trevally, shark or barracuda.
- Slow trolling with live baits for blue marlin, black marlin, sailfish or wahoo.
- Slow trolling with dead rigged bait for dogtooth tuna, giant trevally, shark, barracuda, blue marlin, black marlin, sailfish, or wahoo.
- Small chunks of bait on bottom, as deep dropping for all kinds of bottom fish, blue emperor, jobfish, moon-tail sea bass, red snapper…
All these techniques are generally directed towards a special type of predator, but finally, only fish decides. It is not rare to catch a red snapper on beautiful live bait and a marlin or a big doggy on small few centimetres live bait. So fishing goes!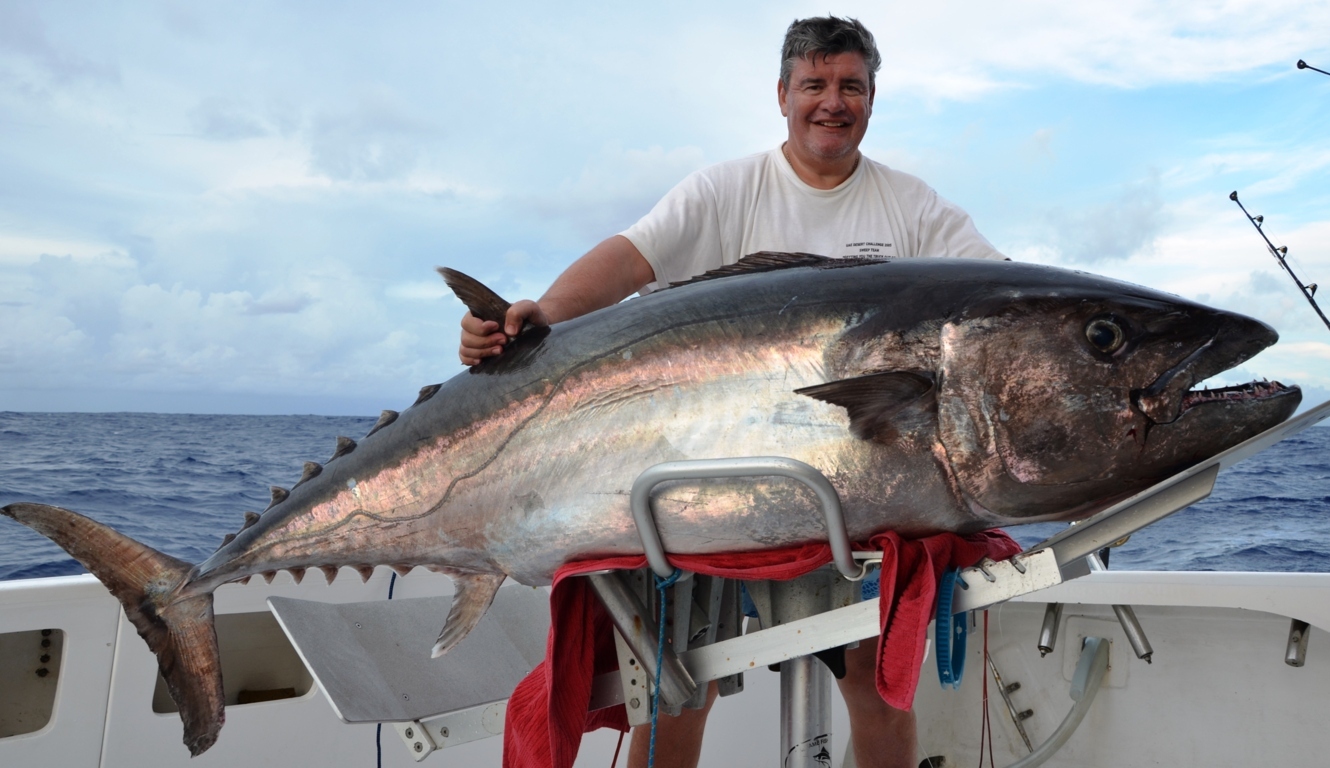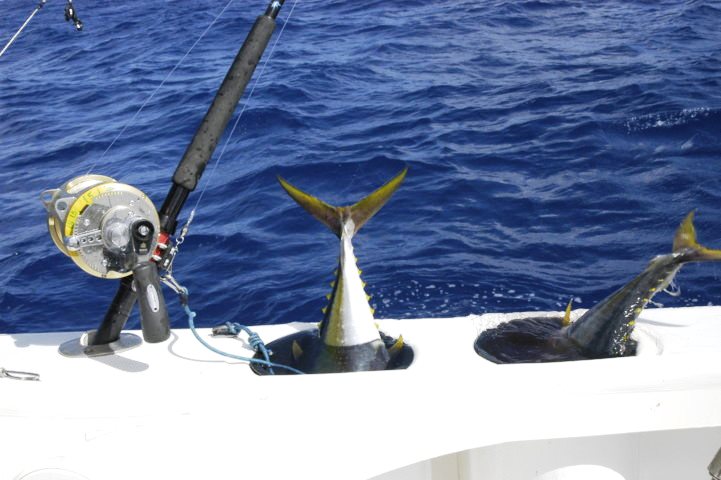 TACKLE AVAILABLE
Traditional or stand up rods with test from 30lbs to 80lbs according to different techniques, are at your disposal, with conform leaders, as well as metal rigs.
Two "tuna tubes" which enable to keep alive 2 tunas or several small bonitos.
Sinkers of different weights.
A downrigger (device which enables to throw a bait down in slow trolling).

IF YOU WANT TO USE YOUR OWN TACKLE

Of course you may use your jigging rod, even with a live bonito if it has a good power reserve and also if it is combined with a reel such as Stella 20000 or 30000 filled in with 80lbs braid (Power Pro).
We mainly prefer the use of circle hooks; they usually hook in the corner of the mouth, enable a better release and more vigorous fights.

Fishing marlin on live bait
A leader about 4m; you may choose a test of 400lb for a fluo-carbon line, even a 300lb line when sea is flat and fish suspicious.
16/0 Circle hooks such as Owner Super Mutu, or classical ones such as Jobu 11/0.

If spot is more «dogtooth tuna or trevally»
A 200lb leader would be strong enough for a dogtooth tuna.
Circle hooks such as VMC 9788 or Owner Super Mutu in 12/0.
If the sea is quite and weather is sunny, you may use a 150lbs leader, still 2.5m long.

For bottom fishing
You may use a leader between 100lbs and 130lbs test.
As well, a sampling of small circle hooks or classical hooks (your jigs' hooks may be convenient).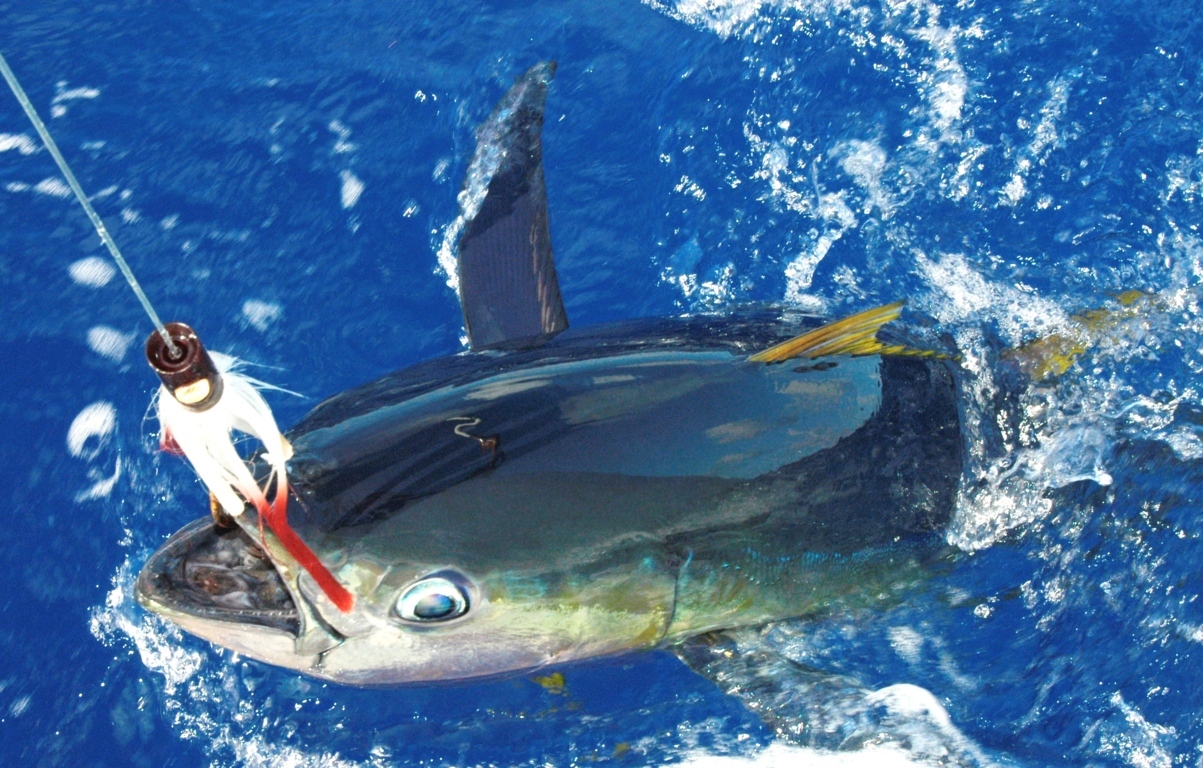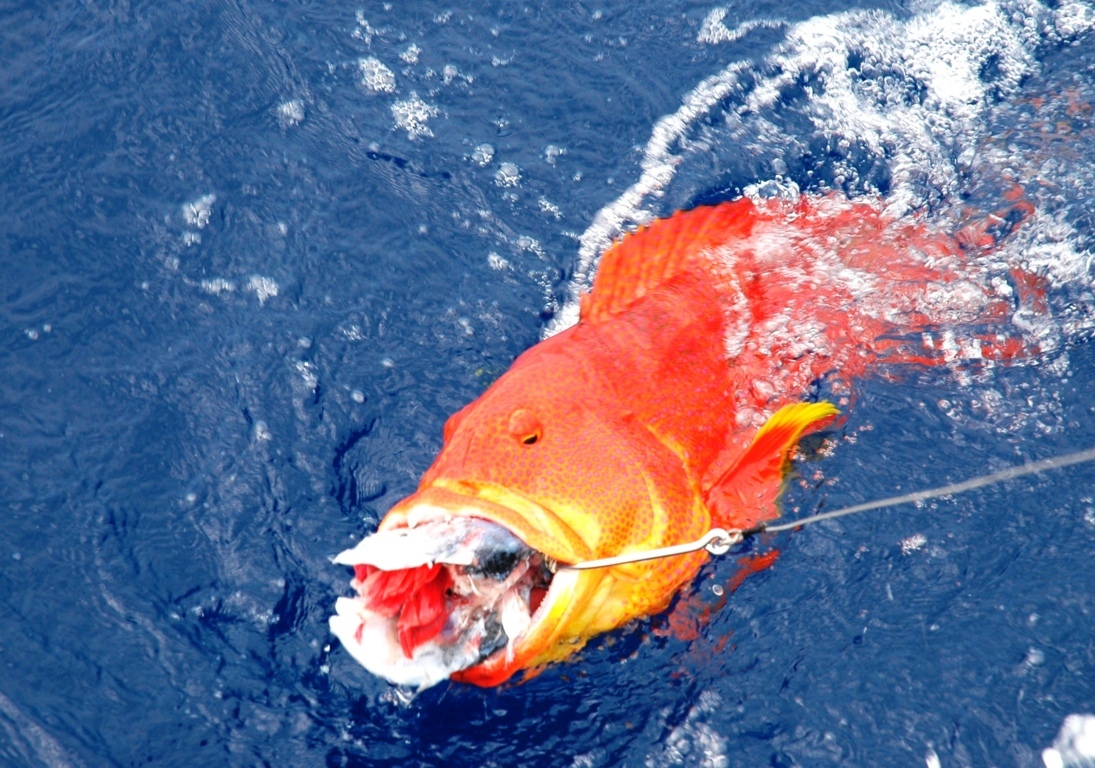 THE CAPITAIN'S ADVICE

When we practice big baiting, dead or alive, you may keep the line in your hand, pick up opened. On strike, you may let the fish take more or less line. You will not be able to hook up and you may lose the fish because of the pick-up attempting to close.
Solution is just before hooking up. You may raise the top the rod high above your head and lower it very quickly in order to be "ahead" of the line outing and then you may be able to close the pick up very easily.
I strongly advice you this technique because I have seen so many trophy fishes lost following unsuccessful hooks up.
Another advice: You may set up the drag well before you put your bait in the water!