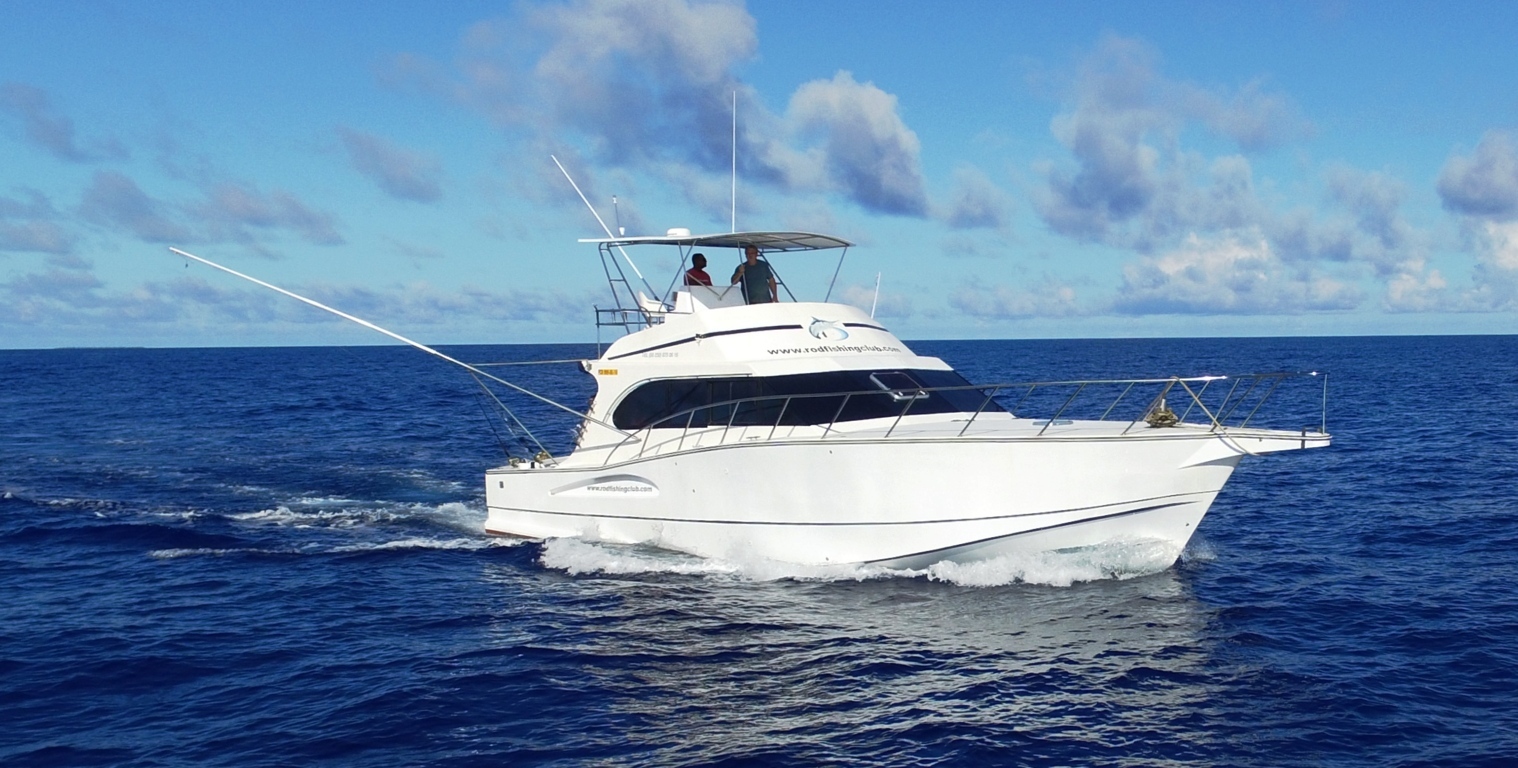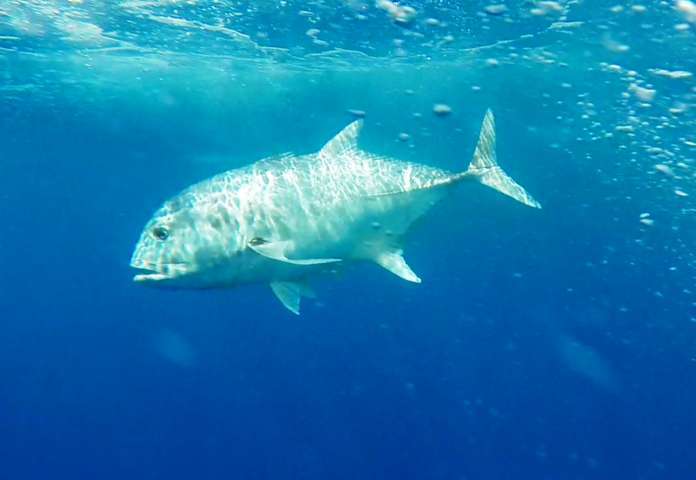 CARANGIDS IN RODRIGUES
This family counts numerous diverse species. We could be surprised that some are part of the family such as mackerel, horse mackerel or even pilot fish (Naucrates ductor) that escorts sharks, amberjacks or rainbow runners!
However, they have many common points:
A more or less squeezed body.
A grey blueish back and silver sides.
A medium mouth with small teeth.
A powerful largely indented caudal fin.
Their lateral line holds scutes or crests (very hard and aggressive scale overgrowths which it is better not to touch) situated on each side of the tail. Be careful to the line that will touch them!
Their reproduction takes place in blue waters with an external fertilisation (pelagic eggs are liberated by thousands by the female and fertilized by males' sperm).
Some species offer a large sport interest whereas others are excellent baits!
Sport fish, trevallies are great fighters. Caught on tackle adapted to their size, they will give you great emotions and sensations.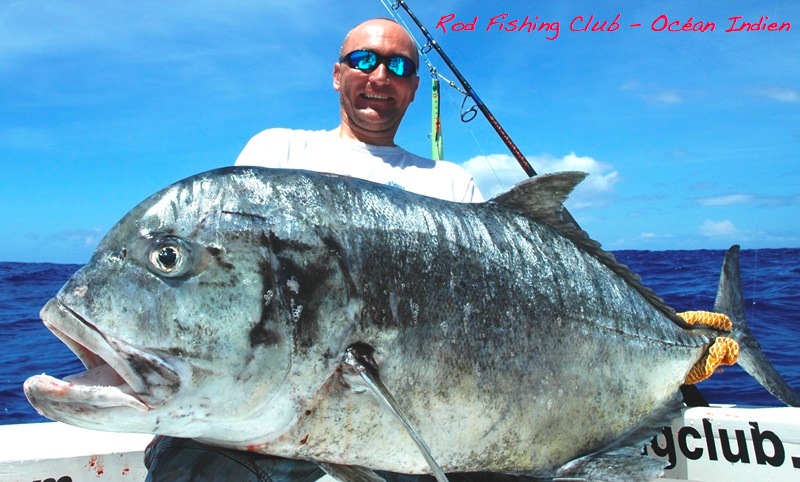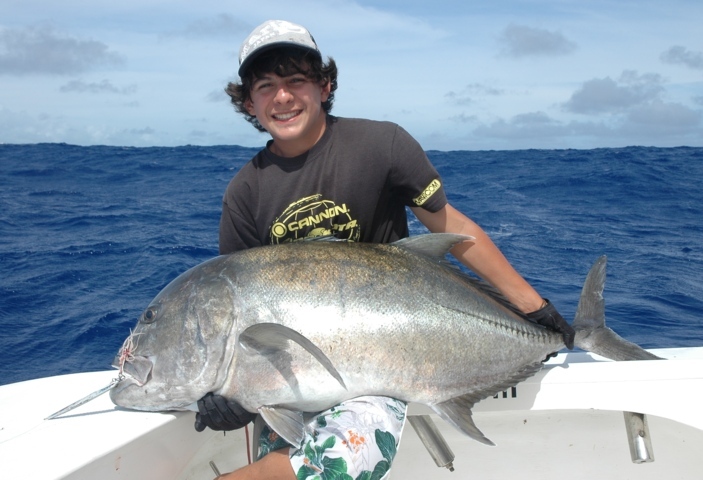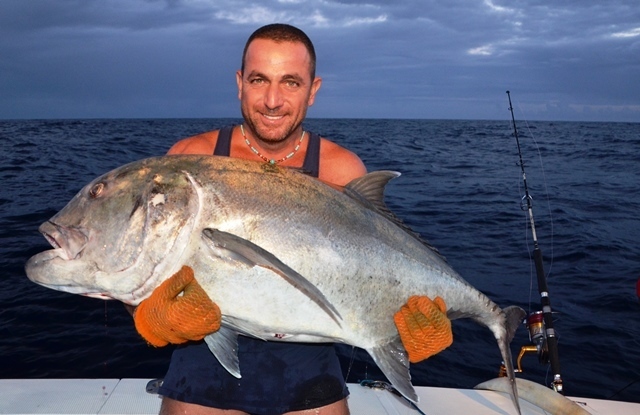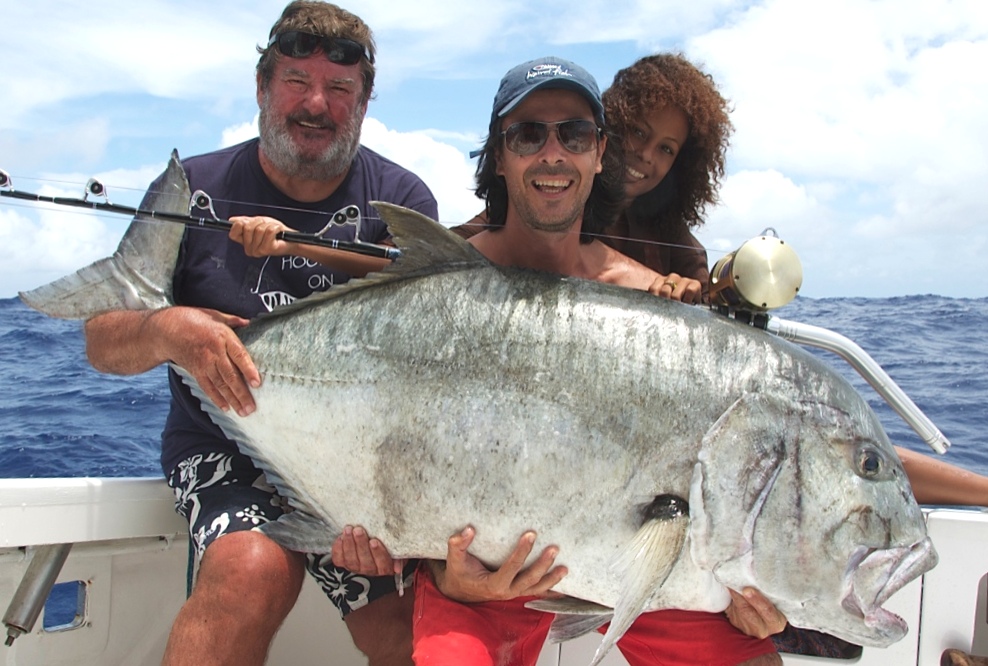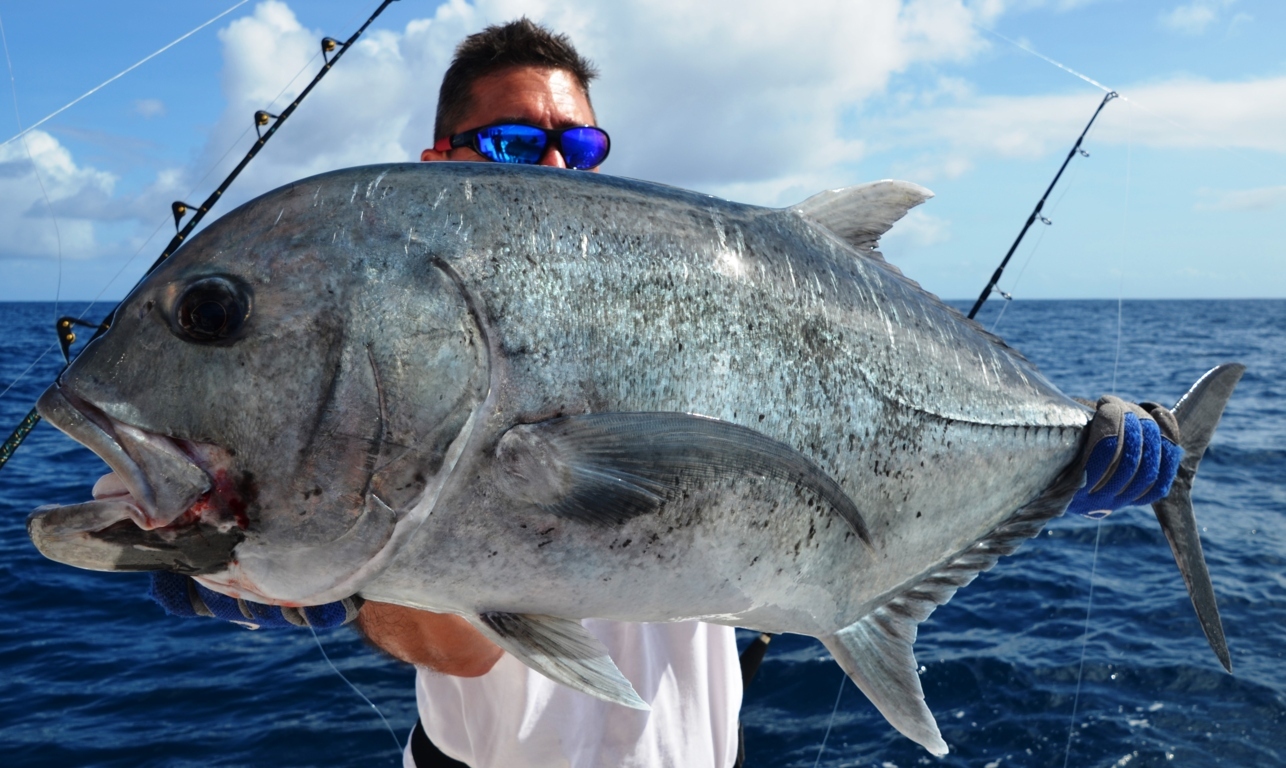 GIANT TREVALLY (CARANX IGNOBILIS)
GIANT TREVALLY CARACTERISTICS
Giant trevally is the biggest and the most prestigious trevally of all the species of this family to fight.
We recognize it easily thanks to its impressive curved and distorted head.
Its ovoid shaped body is highly squeezed.
Its silver grey colour is more black on top and pale on the sides and belly.
During reproduction and concerning older males, this colour turns dark grey, even black.
Its quite large pectoral fins enable it to change direction very quickly.
There are large scutes towards the tail.
Caudal fin is split.
Its maximal size may be 170 cm.
The IGFA giant trevally world record is 72.8kg since 22 May 2006 in Japan.
Rod Fishing Club holds the junior masculine world record of giant trevally with a fish of 43kg caught by William KLEIN (France) on 14 February 2010 in Rodrigues.
Paul CUZAK (Ireland) holds our club record since 16 March 2008 with a 57.5kg giant trevally.
GIANT TREVALLY BEHAVIOUR AND REPRODUCTION
Giant trevally is present in tropical and subtropical waters in Indian and Pacific Oceans.
Giant Trevally lives in coral reefs, on the continental shelf as well as along abrupt walls in shallow waters (but scarcely 100m deep). The biggest ones are often alone and chase in restricted areas they monopolize.
Giant trevally reaches sexual maturity at the age of 3 or 4, about 60-70cm.
Reproduction is done by external fertilization.
Growth is quick. At the age of 1, it can reach 18cm; and 35cm at the age of 2. At 3 years old it is between 50 and 60cm long, 80 cm at the age of 5, and 1m at the age of 8. The ones being 1,70m long might be over de 20 years old.
FEEDING OF GIANT TREVALLY
Voracious, as an adult, it feeds with any kind of forage fish, cephalopods, shellfish and even tunas.
It mainly chases at dawn and sunset.
FISHING GIANT TREVALLY
Its big size and weight make of this powerful predator a must catch for sport fishermen.
Giant trevally is sought after among underwater structures, reef bumps and other walls off shore.
Jigging.
Slow trolling on live bait.
Drifting with live or dead bait.
Popper or stickbait.
Giant trevally offers its whole powerfulness with madness, a wonderful strike and monstrous revivals, during which it looks to hide itself in coral reefs or rocky obstacles.
Therefore, it is necessary to restrain or to unbalance it as much as possible, thanks to the tackle or adapted fighting techniques, to avoid it to win the fight. Pumping, it moves round into circles. Then, be careful to entangle with others' lines!
In addition to your trip aboard Black Marlin, if you wish to catch giant trevally along the barrier reef or in paths, you can go fishing with Eric César, rodrigan skipper, a specialist of this coastal technique: +230 58 75 90 76. Email: leboss.fishingclub@yahoo.com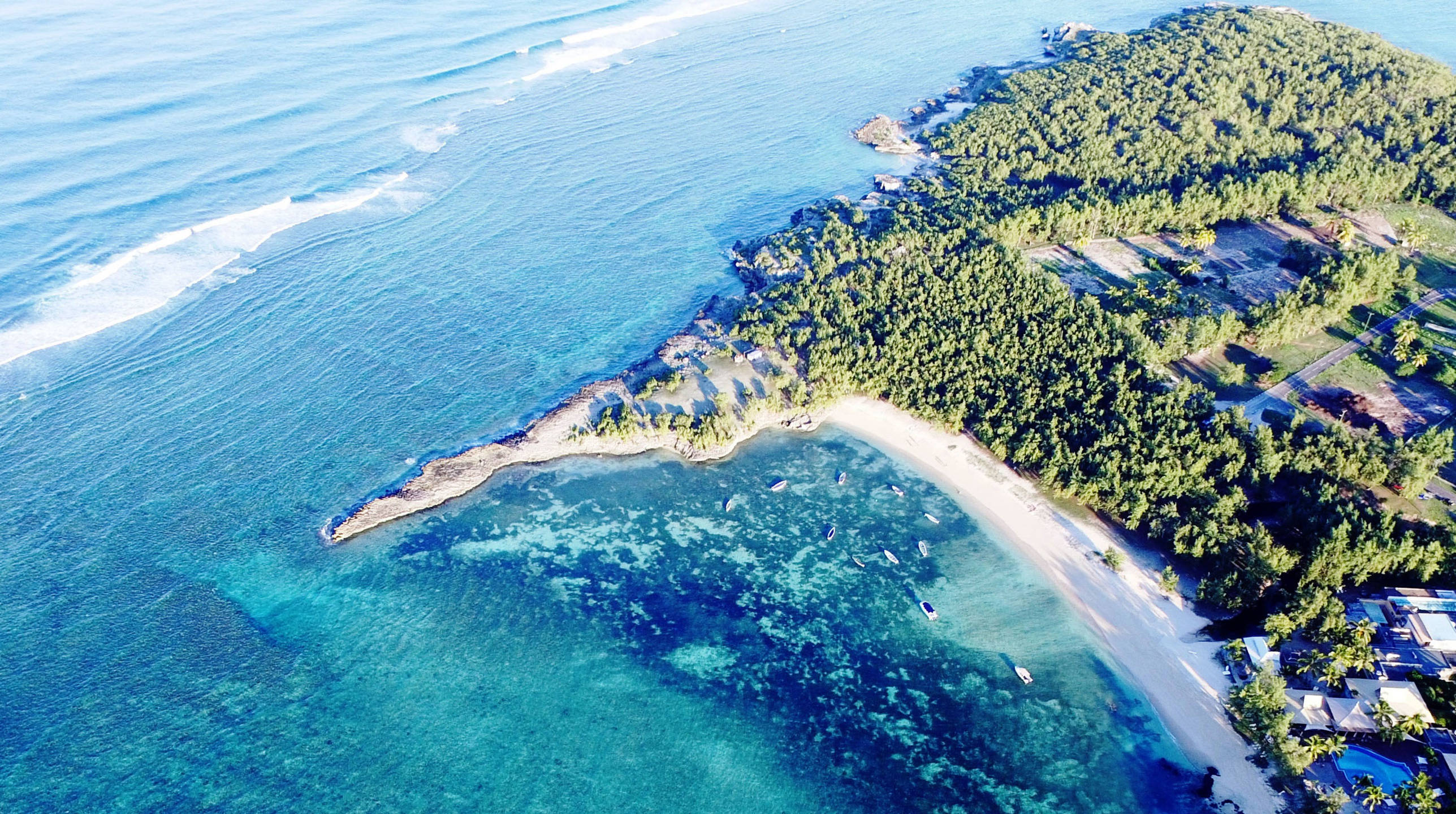 YELLOWSPOTTED TREVALLY (CARANGOIDES FULVOGUTTATUS)
YELLOWSPOTTED TREVALLY CARACTERISTICS
Yellowspotted trevally is also called golden spotted trevally or yellow dotted trevally. Its numerous names show that it isn't easy to define its nice costume.
Its metalized silver colour is sprinkled with coppery and golden spots as well as 3 or 4 big dark spots on the sides.
Its body is flat and ovoid.
Its mouth is proportionally less large than other trevallies'.
Yellowspotted trevallies we catch Rodrigues weight between 5kg and 8kg.
YELLOWSPOTTED TREVALLY BEHAVIOUR AND REPRODUCTION
Yellowspotted trevally lives in tropical and subtropical waters in Indian and Pacific Oceans.
It evolves in small groups. It follows forage fish schools on continental plateaus as well as reef and rocky walls. We can meet it on banks, down to 100m deep.
Reproduction is by external fertilization.
FEEDING OF YELLOWSPOTTED TREVALLY
It feeds with fish and invertebrates.
FISHING YELLOWSPOTTED TREVALLY
Majority of this specie of trevallies are caught on jigging, even if we could think that it bites on small pieces of baits.
As soon as it feels it is hooked, yellowspotted trevally shakes head frenziedly and intermittently very characteristically.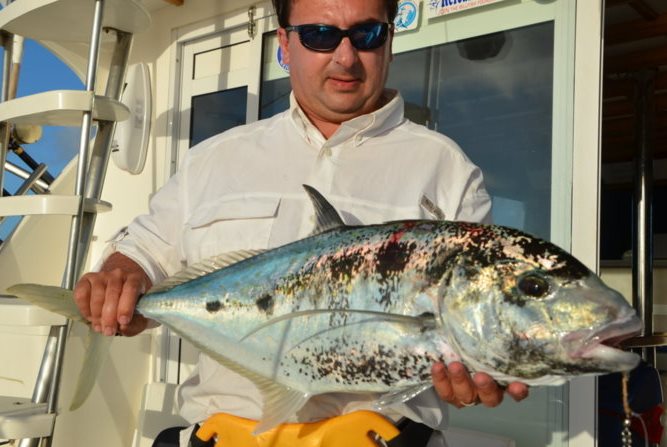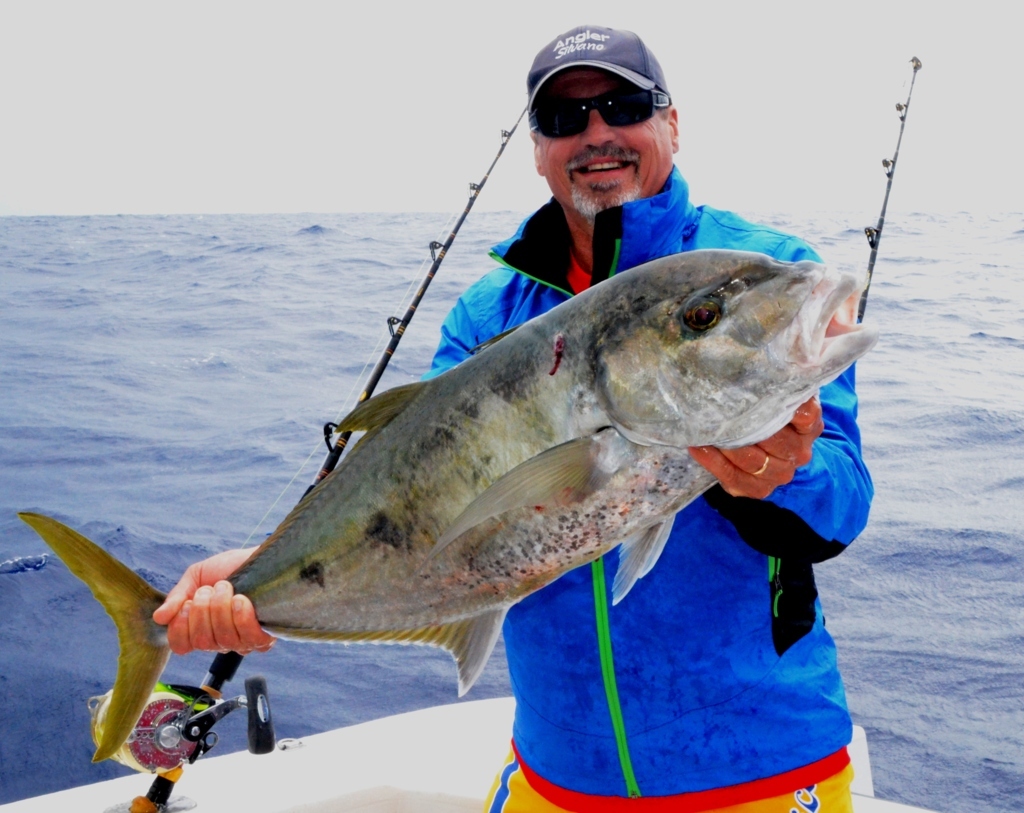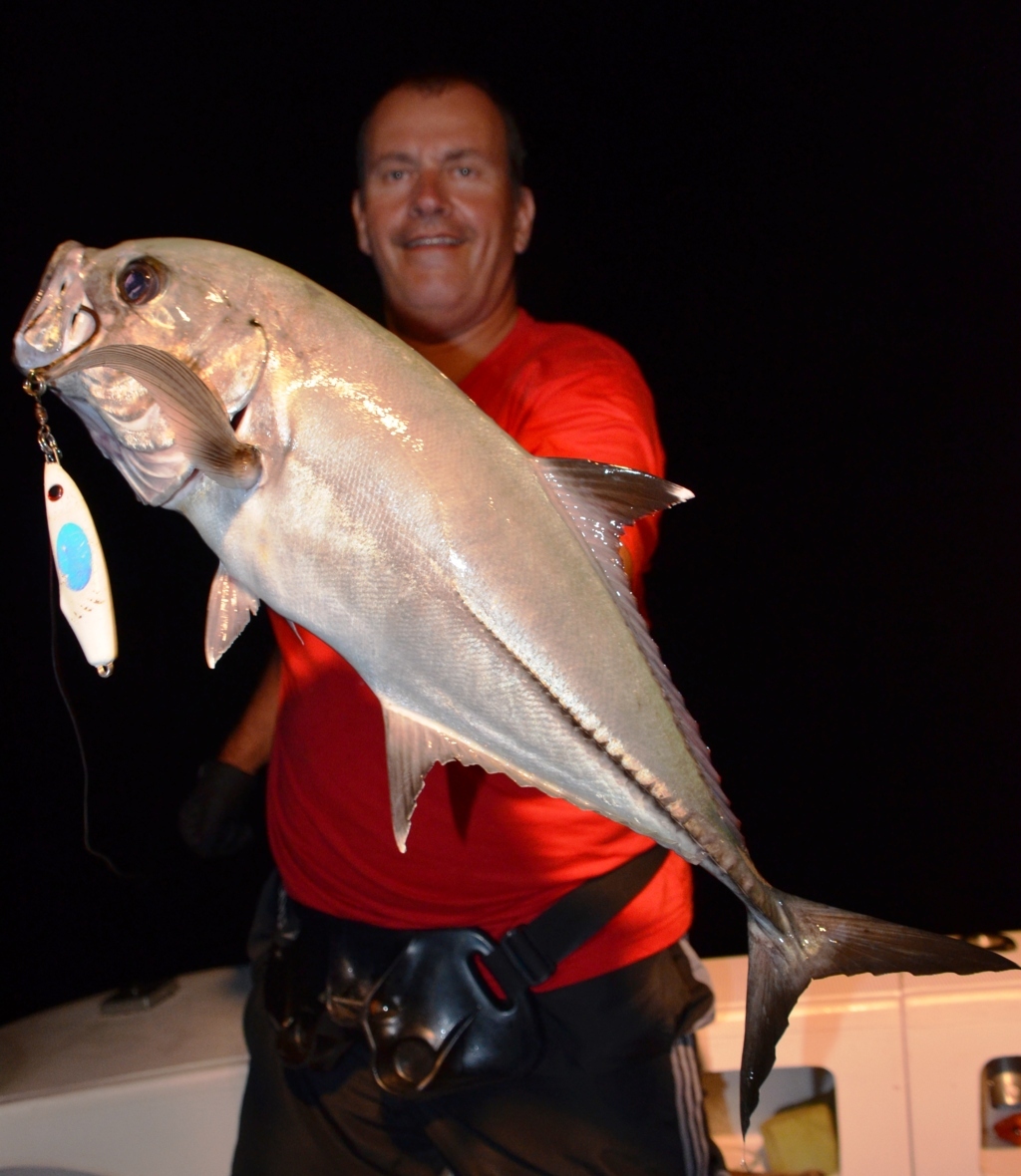 BIG EYE TREVALLY (CARANX SEXFASCIATUS)
BIG EYE TREVALLY CARACTERISTICS
Its name comes from its eyes' size whereas its scientific name from latine sexfasciatus (sex = 6) and (fasciatus = stripes) explains why juveniles hold 6 darker strips which disappear as it grows.
Its oval shape is long and squeezed on sides.
Its silver grey colour is lighter on belly.
A small black spot dresses the upper left operculum.
The upper end of the second dorsal fin lobe is white.
Its lateral line holds strong scutes.
Its caudal fin is forked and yellowish
Its average length is 60cm.
Big eye trevallies we catch in Rodrigues weight between 5kg and 8 kg.
The IGFA world record of big eye trevally is 14.3kg caught on 23 April 1997 in Seychelles.
BIG EYE TREVALLY BEHAVIOUR AND REPRODUCTION
Big eye trevally lives in tropical and subtropical waters in Indian and Pacific Oceans.
It evolves in lagoon paths as well as along external reef or rocky walls between 0 and 100m deep. Off shore, we can find it below drifting wrecks.
It is for sure big eye trevally that has the most intense nightlife. This explains why its eyes are so big.
Juveniles evolve into groups in shallow waters.
Big eye trevally reaches sexual maturity at about 45cm long.
Reproduction is by external fertilization.
FEEDING OF BIG EYE TREVALLY
On daytime, big eye trevallies group into banks, statically in paths corners or outside the barrier reef. They spread out at night to chase and feed.
Adults are more active at night or at dusk. They usually feed with fish, cephalopods and shellfish.
FISHING BIG EYE TREVALLY
We generally catch it at night:

BLUE FIN TREVALLY (CARANX MELAMPYGUS)
BLUE FIN TREVALLY CARACTERISTICS
This is probably one of the most beautiful fish but it loses its colours when dying.
As many trevallies, its long and oval body is squeezed on sides.
Its French name is characteristic. Its head and its upper body are harmonious melting of yellow green and flashy blue to electric blue on its fins (dorsal, caudal, anal et pelvic).
The silver grey below part is covered with a multitude of black and blue iridescent spots.
Its scutes line is beautiful and an electric blue.
The average weight of bluefin trevallies we catch in Rodrigues is between 5kg and 8 kg.
The IGFA world record of bluefin trevally dates 13 April 2012 with a piece of 13.24kg caught in Mexico.
BLUE FIN TREVALLY BEHAVIOUR AND REPRODUCTION 
Big eye trevally lives in tropical and subtropical waters in Indian and Pacific Oceans.
It evolves in small groups and alone.
We find it in coral bottoms as well as along external reefs or rocky barriers.
Sexual maturity is reached at about 40cm long for females and about 50cm long for males.
Reproduction is by external fertilization.
FEEDING OF BLUE FIN TREVALLY
It is active as much on daytime as at night. But, as many predators, bluefin trevally better chases at dawn or at dusk.
FISHING BLUE FIN TREVALLY
Its attack is striking and its defence is nervous and punctuated with harsh pull-ups and sudden changes of direction. Jigging and Palangrotte remain the best techniques to catch it. You will then be filled up with emotions and sensations proportionally to its size.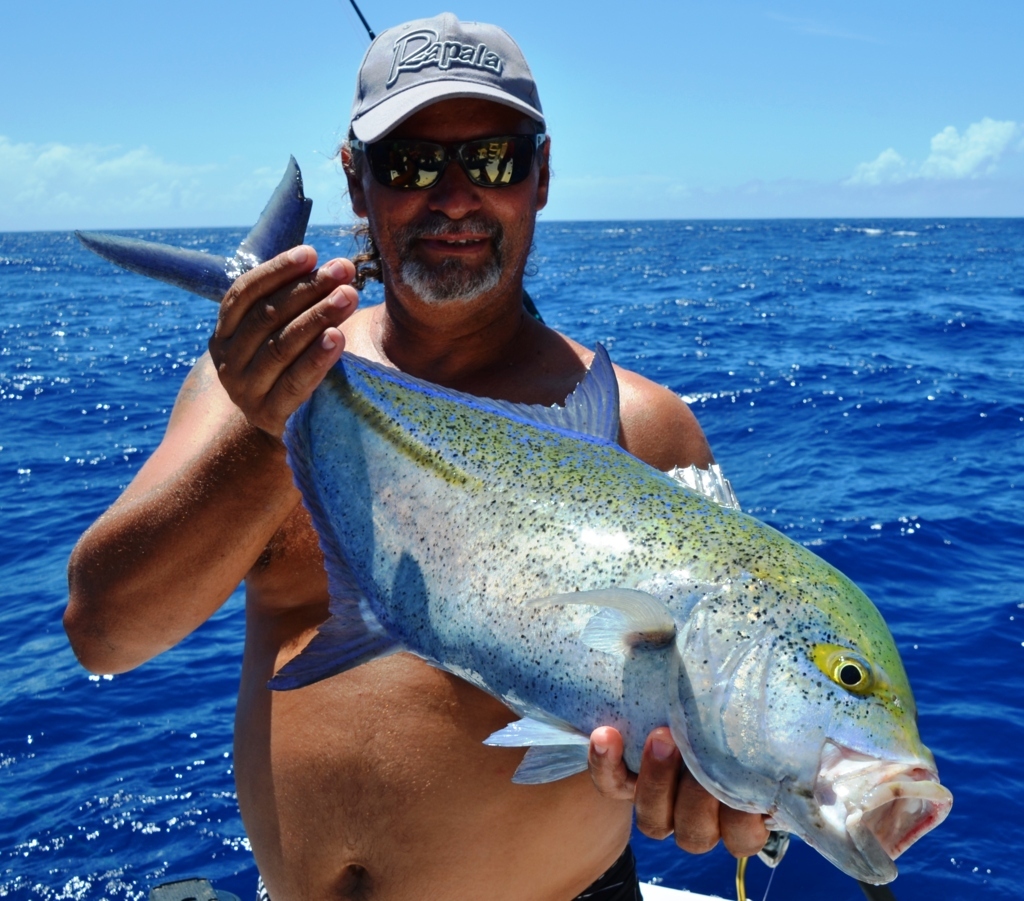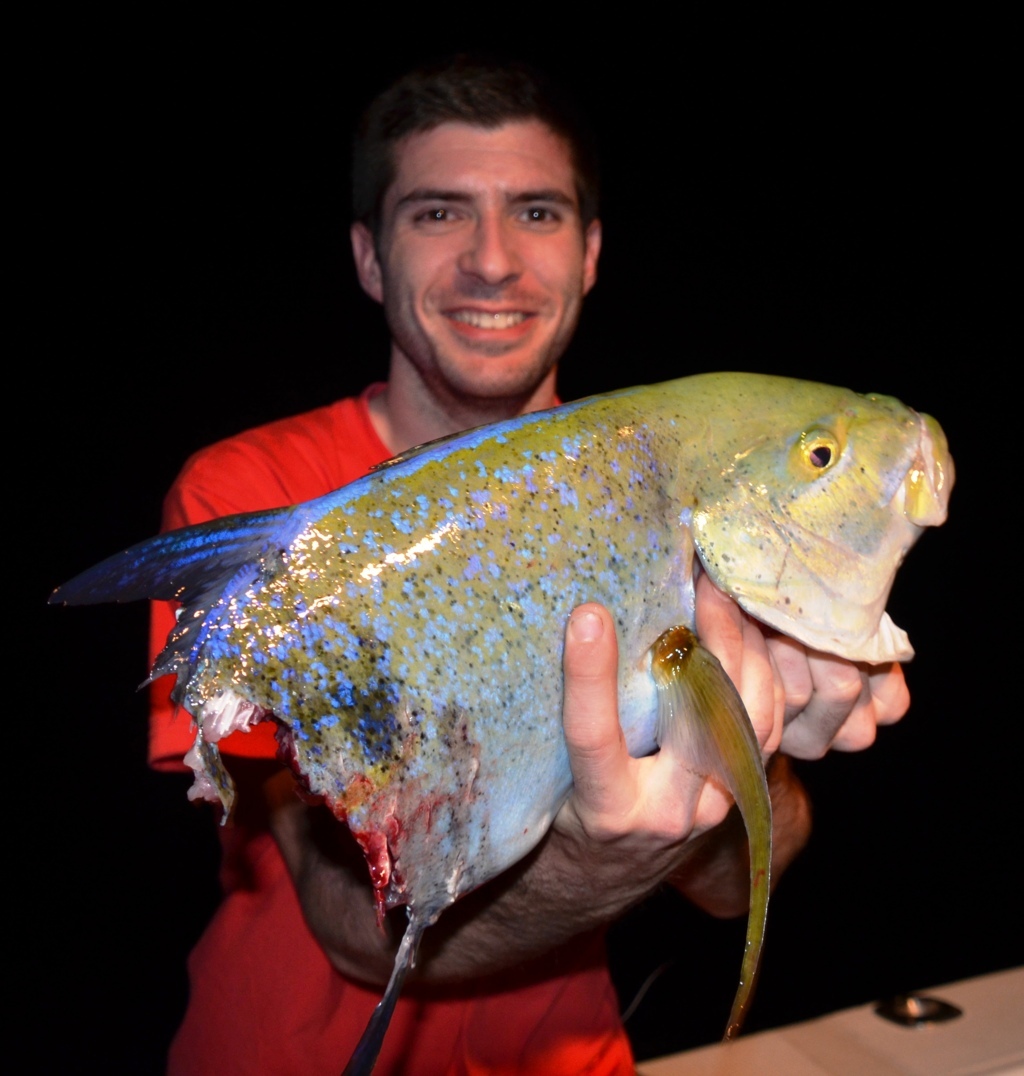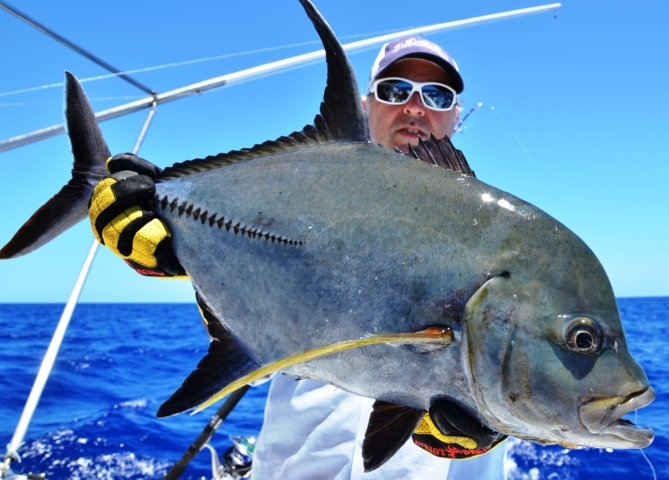 BLACK JACK (CARANX LUGUBRIS)
BLACK JACK CARACTERISTICS
Black jack is the most common in Rodrigues.
Its name is due to its dark brownish grey colour, almost black on banks off shore.
Its high squeezed body holds a largely bumped forehead.
Black scutes of its lateral line are protunding.
Proportionally, black jack might be among the best fighters of the family.
The IGFA record is 17.94kg.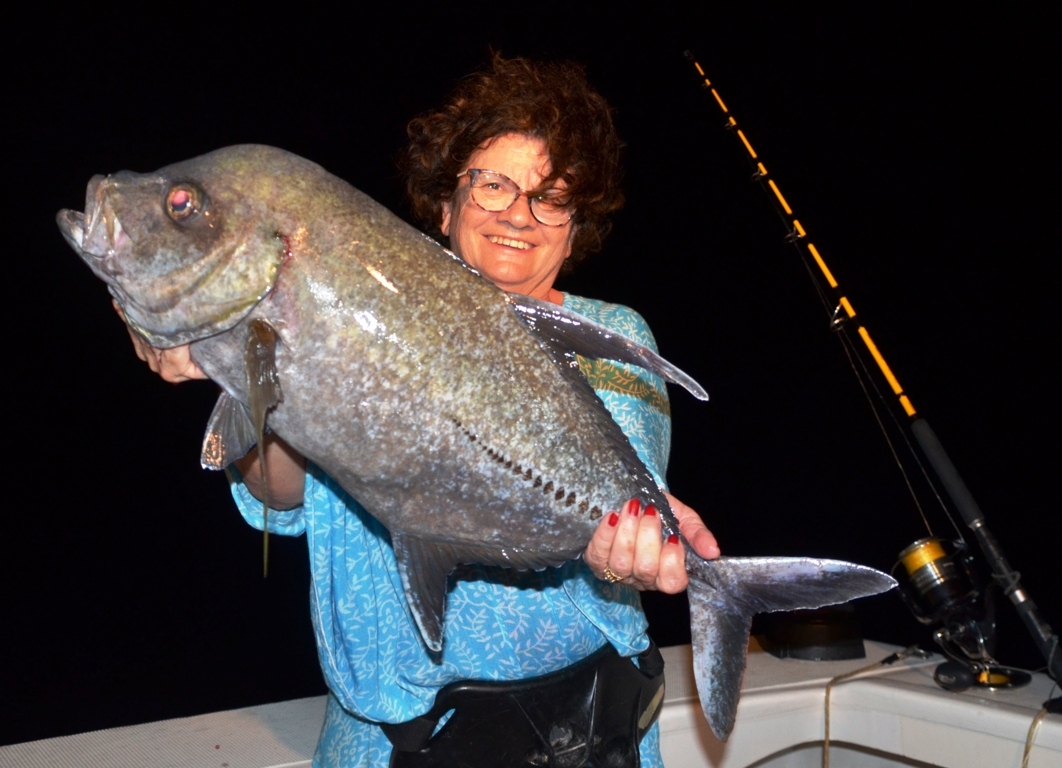 BLACK JACK REPRODUCTION
We find it in light circumtropical waters, down to 300m deep. It is also found along the barrier reef in ocean. It lives within schools more or less numerous (the biggest being only 4 or 5, whereas the smallest are into groups of hundreds).
Sexual maturity is reached at about 35cm long for females and 38cm for males.
Reproduction is by external fertilization.
FISHING BLACK JACK
You will be able to catch black jacks from 3kg to 5 kg (even 8kg in you're lucky)… on daytime as well as by night. We look for them preferably on jigging on barrier reefs even if they are attracted with small baits.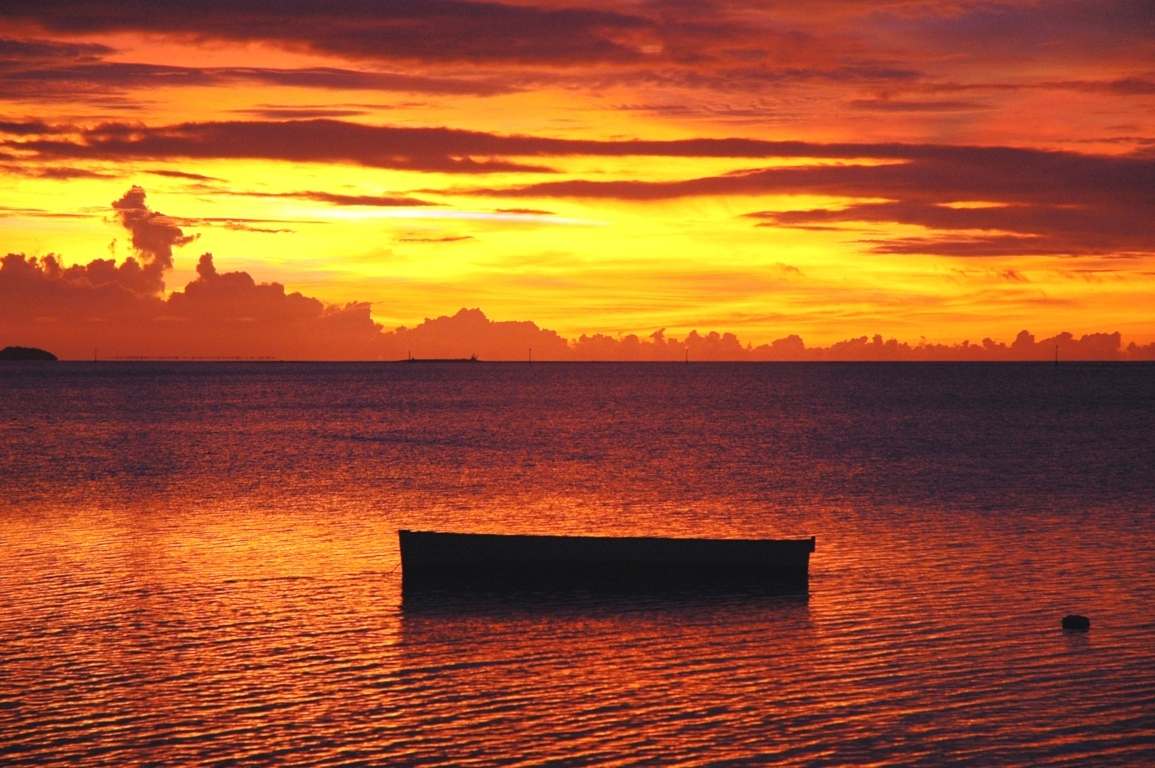 AMBERJACK (SERIOLA DUMERI)
AMBERJACK CARACTERISTICS
What a nice fish!
Its oval and long figure is squeezed on sides and slender up to tail.
Its massive and short head ends by a round nose boarded with big lips.
Its long dorsal fins are connected and the second dorsal fin ends at a large and forked tail.
Its bluish grey back has golden or silver dazzles. Its sides are light and pearly and its belly is white.
Generally, an oblique brown strip goes from nose to the top of the back through eye.
Belonging to the trevally family, amberjack doesn't hold scutes.
Young ones have their backs and sides golden with vertical strips more or less clear.
The IGFA world record of amberjack is 74kg since 22 June 2015 in Japan.
It can reach 190cm long for the biggest, but most of the pieces are about 1m.
It can live about 15 years.
Our club record is a 16kg amberjack since 09 May 2011 by Alain GERMAIN (France). 
AMBERJACK BEHAVIOUR AND REPRODUCTION
We find amberjack in Mediterranean Sea as well as in circumtropical areas. This pelagic fish moves into groups of 4 to 5 individuals, around high reefs or along rocky barriers from 20 to 70m deep. It can go down to 360m deep.
Reproduction is by external fertilization.
Grubs become young ones with yellow big bodies. To survive, they find shelter under floating objects or jellyfish
At around 1 year old, it almost weights 1kg and remains close to the coast, looking for small fish, crabs and shrimps.
At the age of 3, sexual maturity is reached. Then it weights about 2.5kg -3 kg.
At the age of 9 and over, all amberjacks might be females.
FEEDING OF AMBERJACK
Its quick and powerful swim enables it to attack any specie of fish and cephalopods. Calamari (with garfish) is part of the best baits to fish on slow trolling. It keeps its mouth open. It does not have teeth but strong and indented jaws swallow its preys.
FISHING AMBERJACK
We fish amberjack mainly on jigging. Once hooked up, amberjack (small or big), alternates quick rushes and powerful head impulses. After strike, amberjack will always look for the bottom and rock to rub the line until it breaks up, if you let it go!
It is not rare to find it in high depths for those are keen on deep jigging.