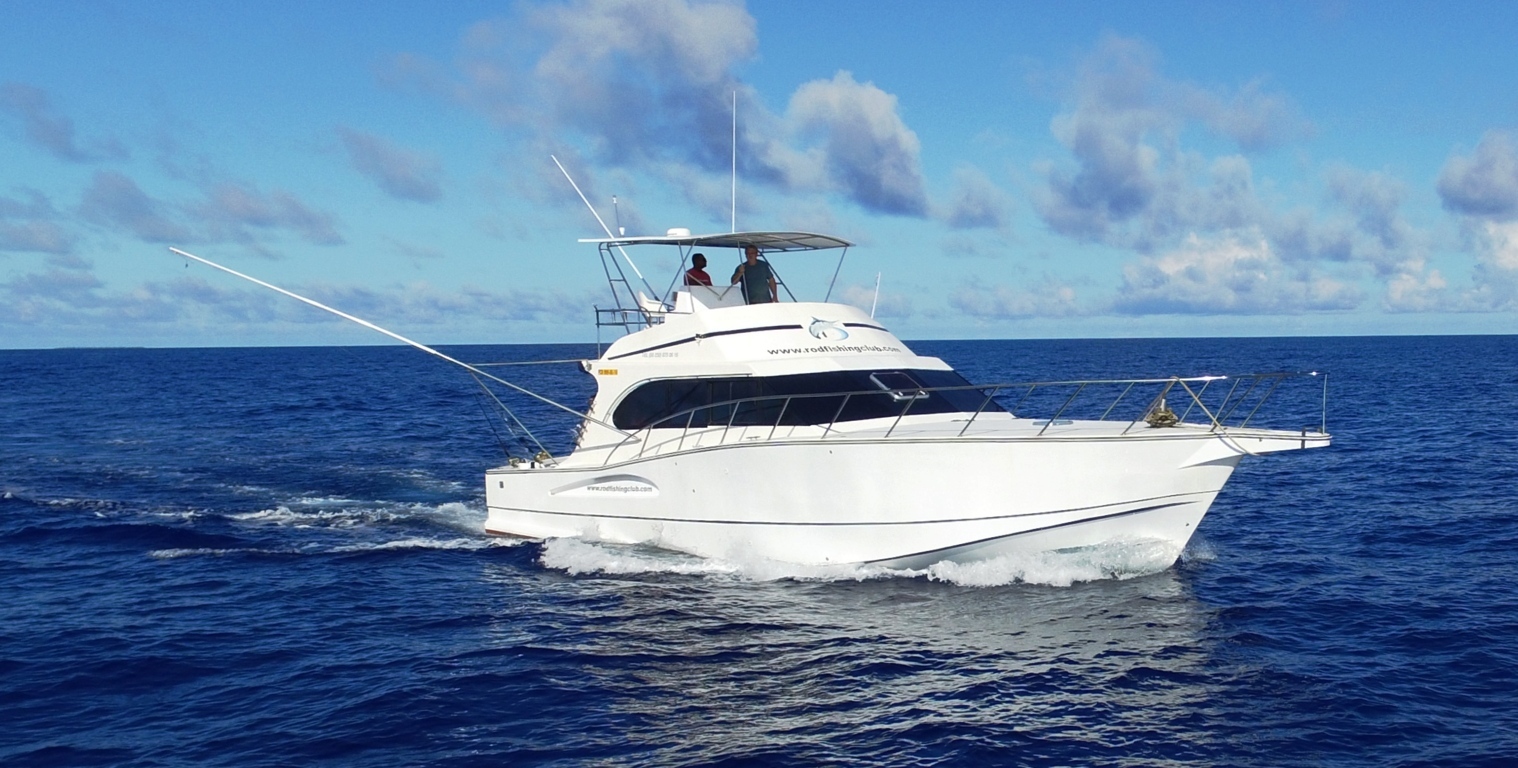 THE BLACK MARLIN: OUR FISHING BOAT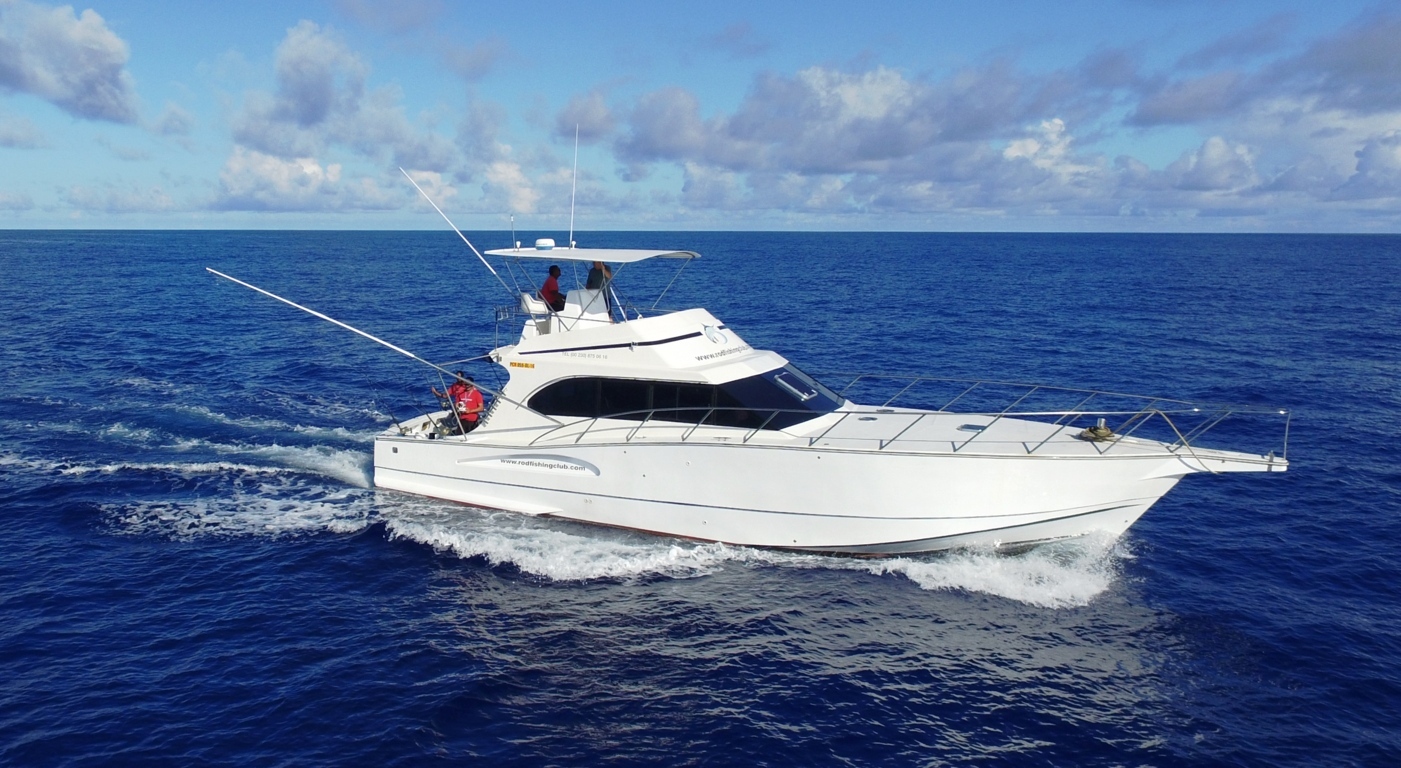 THE BOAT
Black Marlin is a 50 feet Legend that was originally designed by Jacques d'Unienville and enhanced by Igor Van Nuwenborg, a naval design constructor with the G.R.N.W. shipyard at Pointe aux Sables in Mauritius.
It is specially designed for the Rodriguan waters where the average annual winds are 18 knots and the wave height is 2.50 m. The Black Marlin set sail for the first time in February 2005. The level of comfort on board is outstanding and its numerous customised features make it very easy to manoeuvre.
The boat was refitted in July 2015.
Five fisherman and accompanying friends will therefore feel perfectly comfortable in the Black Marlin since it has a carrying capacity of 16 people.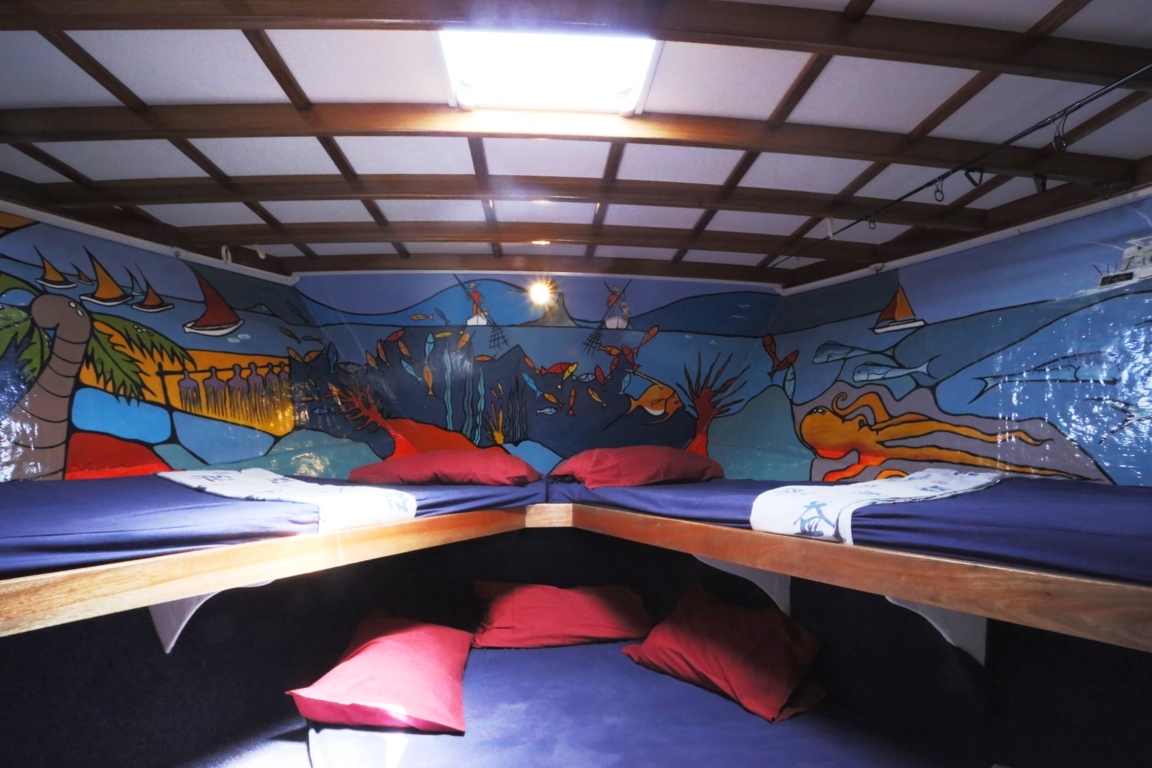 BOAT CHARACTERISTICS

Engines: 2 x 350 CV Volvo Penta supplied and installed by Talbot Engineering Co Ltd in Mauritius.
Length: 50 feet (15 m end-to-end) / Width: 15.8 feet (4.75 m).
Tanks: 4,000 litres of gasoil; and 1 000 litres of fresh water.
Weight: approximately 30 tonnes fully loaded.
LIVING QUARTERS
Luxurious and comfortable with wood and stainless steel finishing.
Large living area with benches and a table.
Fully-equipped kitchen.
9 bunks with closet.
Bed sheets provided.
Toilets and shower (towels provided).
CD/mp3 player.
Electric sockets in 12, 24 and 220 Volts.
ELECTRONIC EQUIPMENT
Pilot post at Fly bridge: Combo map plotter and fish finder Simrad NX 45
Cabin: Map plotter Simrad CE33
Radar: FURUNO M 1623 + VHF ASN + Automatic pilot Simrad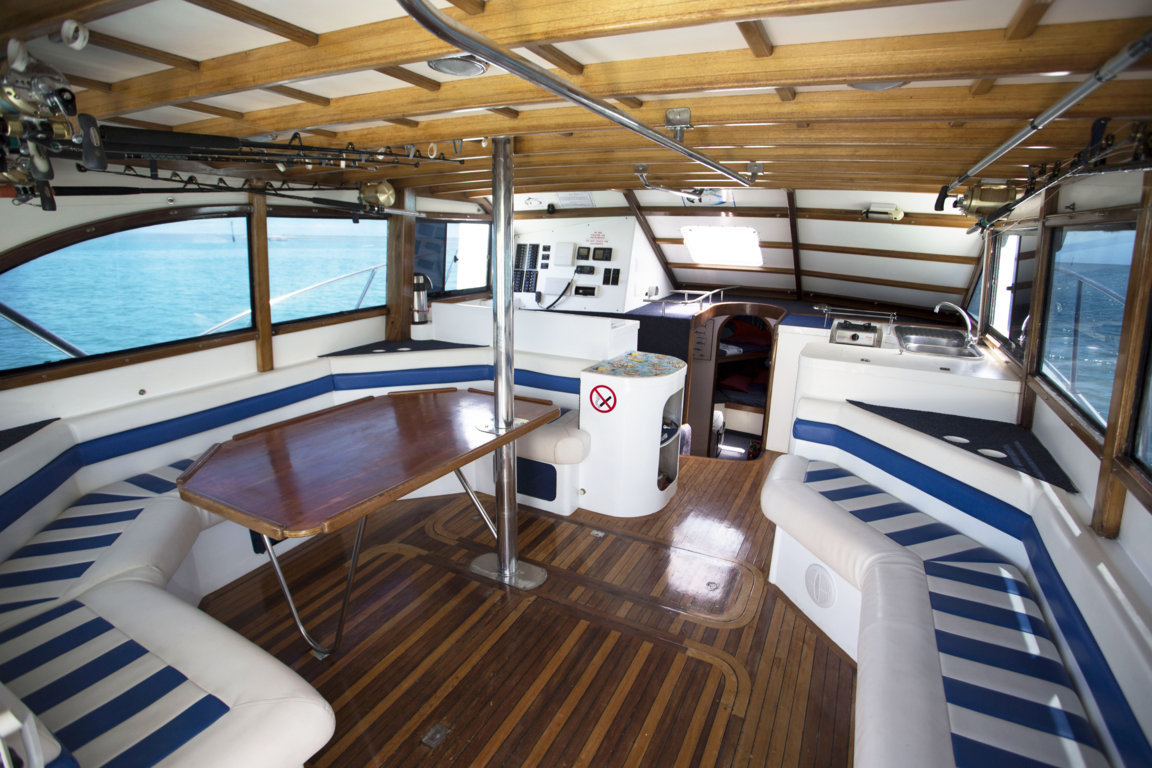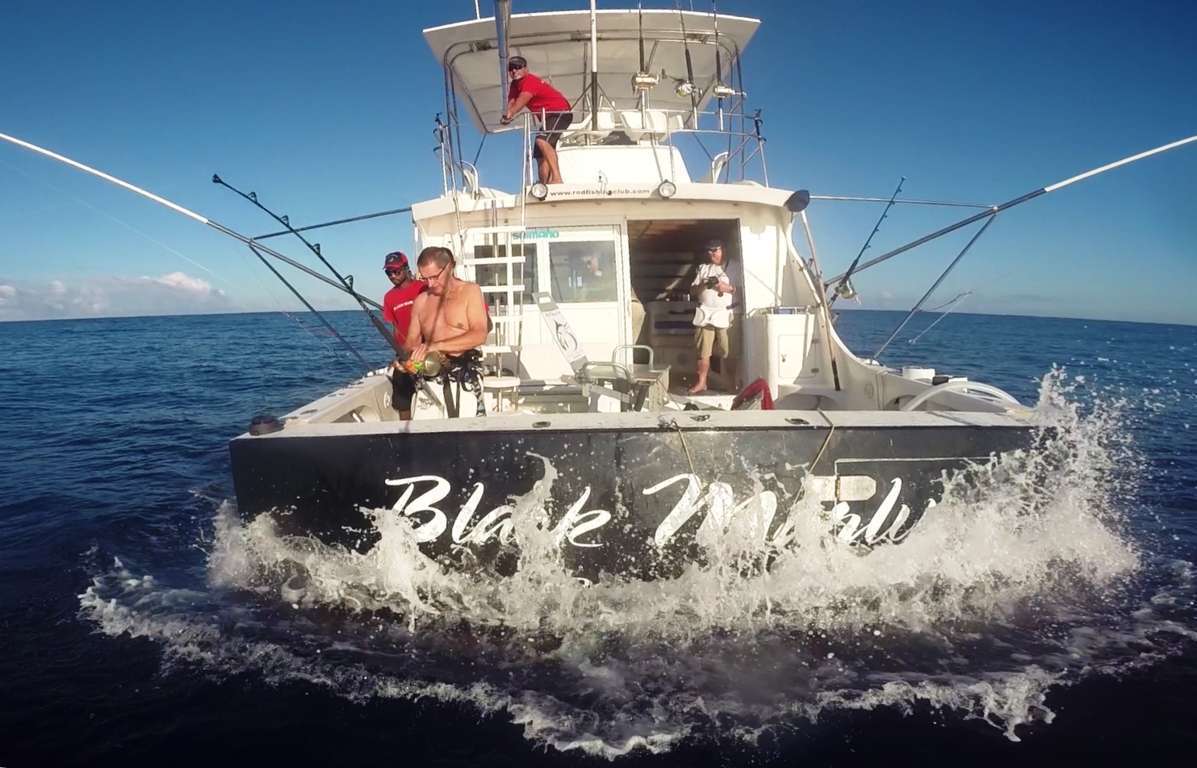 EXTERIOR AREA 
Foredeck of 13 m2
Spacious fly bridge, manoeuvrable for 8 people
1 central fighting chair - NORMIC
 
SECURITY - (SOLAS international norms)
1 life raft, life jackets, flares
Satellite telephone - INMARSAT
Epirb Mc Murdo
Extinguishers
Insurance Cover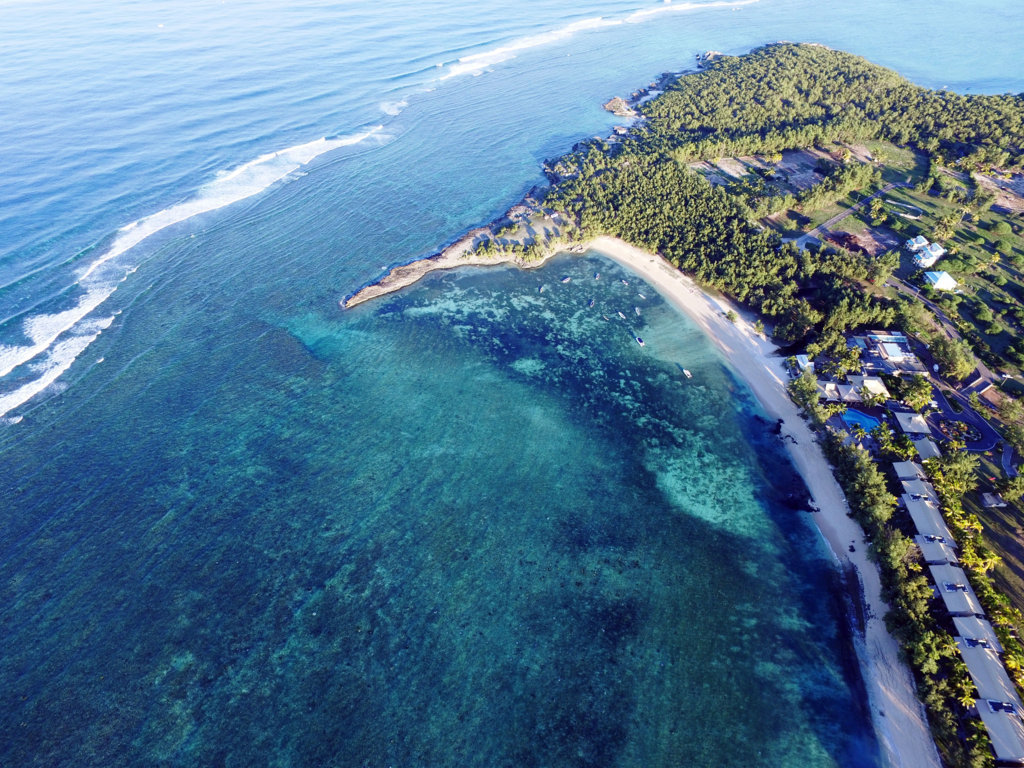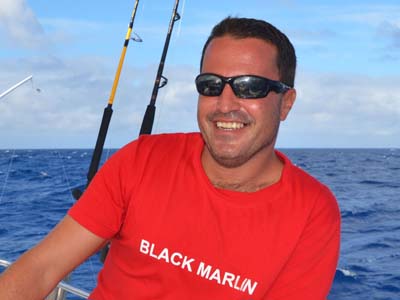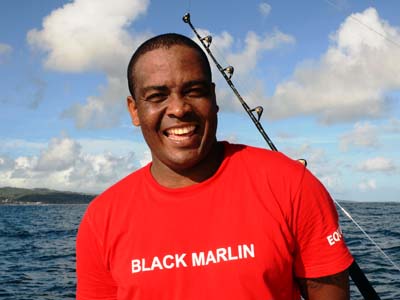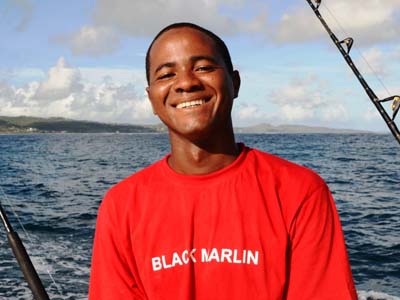 Yann COLAS was born on 25 June 1980 in Nantes. At the age of ten, he discovered the universe of big game fishing in Reunion Island and caught his first marlins in a solo competition at 16 years old and at 18 years old in competition on the family open boat.
In 2000, Yann changed the course of his career when he decided to quit his law studies to pursue the passion of his life. He enrolled at Navy school "Maritime du Port" where he received technical training. His practical training was done at the Réunion Fishing Club with Joël Le Guen. Yann became a sailor and skipper by 2004.
In 2003, Yann settled down in Rodrigues and in 2004 he built his boat, the Black Marlin.
On the 25 February 2005, the Black Marlin left Mauritius for Rodrigues Island. The boat is berthed and operates from the port of Port Mathurin. Since then, Yann skippers the Black Marlin and is the General Manager of the family company: Rod Fishing Club.
Today, he is an IGFA Guide/Captain, the IGFA Representative for Rodrigues and Captain BGFCF.
Rod Fishing Club is the Official Weigh Station for IGFA.
Yann is blessed with a highly passionate and motivated team of young Rodriguan mates.
Toc and Mathieu are well versed with the different fishing techniques and will therefore guide you accordingly. They can rapidly rig a bonito on Catalina, rig for an optimal swim, or assist you in your first jig fishing experience.
They will have the pleasure to share their knowledge and experiences with you.
The whole team is at your service to make sure your dreams come true.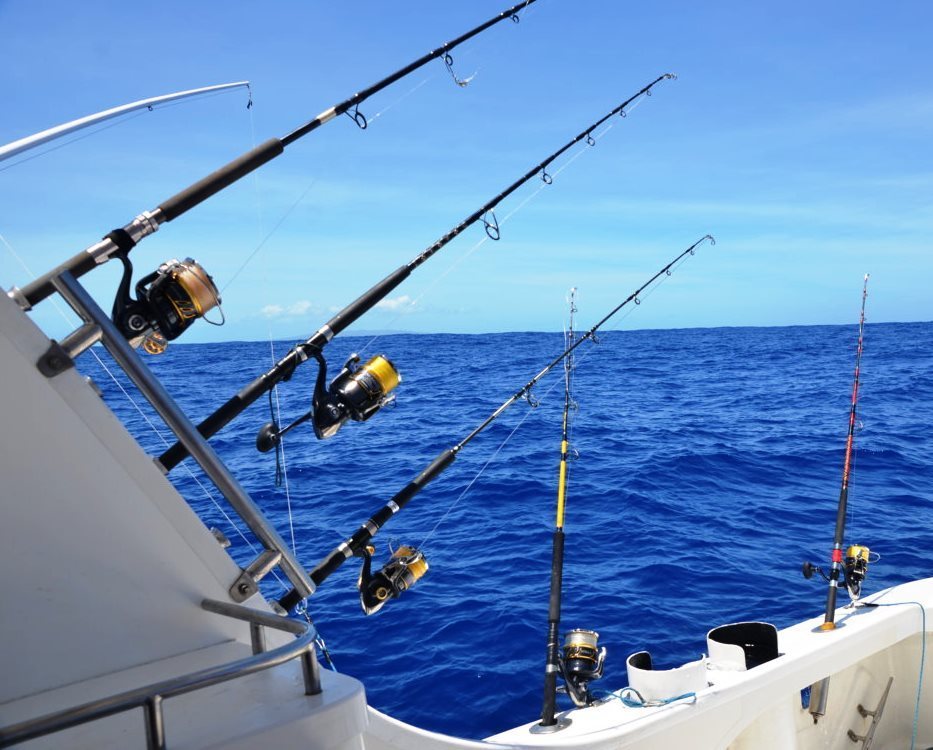 The tackle aboard the Black Marlin is in compliance with IGFA norms and is always maintained in excellent condition. Reels are checked each year and line changed each month.  
Fighting chair Normic.
Reels Shimano Tiagra of 30 to 80lb.
Rods Pedro Custom Rod, Melton, Penn Inter & Gi Bi.
Manual Downriggers.
3 outriggers including one central.
2 tuna tubes.  
Jigging rods Pedro Customs Rods & Shimano
Reels Shimano Stella 2013 SW- 20 000 & 30 000.
Combo Popping Rod from Zenaq + Stella 20 000.
3 sockets of 12 and 24 volts for special jigging electrical reels.
Different harnesses (Black Magic, SevenSeas, and C. Guigo).
Different gaffs.
IGFA Certified scale.

As you can see, you can come bare hands for any fishing practice we offer.
However, if you wish to do so, please contact us beforehand to ensure that your equipment is adapted for Rodrigues and also to avoid unnecessary luggage overweight.
On the other hand, we would highly recommend that you pack a pair of sunglasses polarized if possible, sun block, hat, gloves, camera, and patches or other medicine for seasickness.