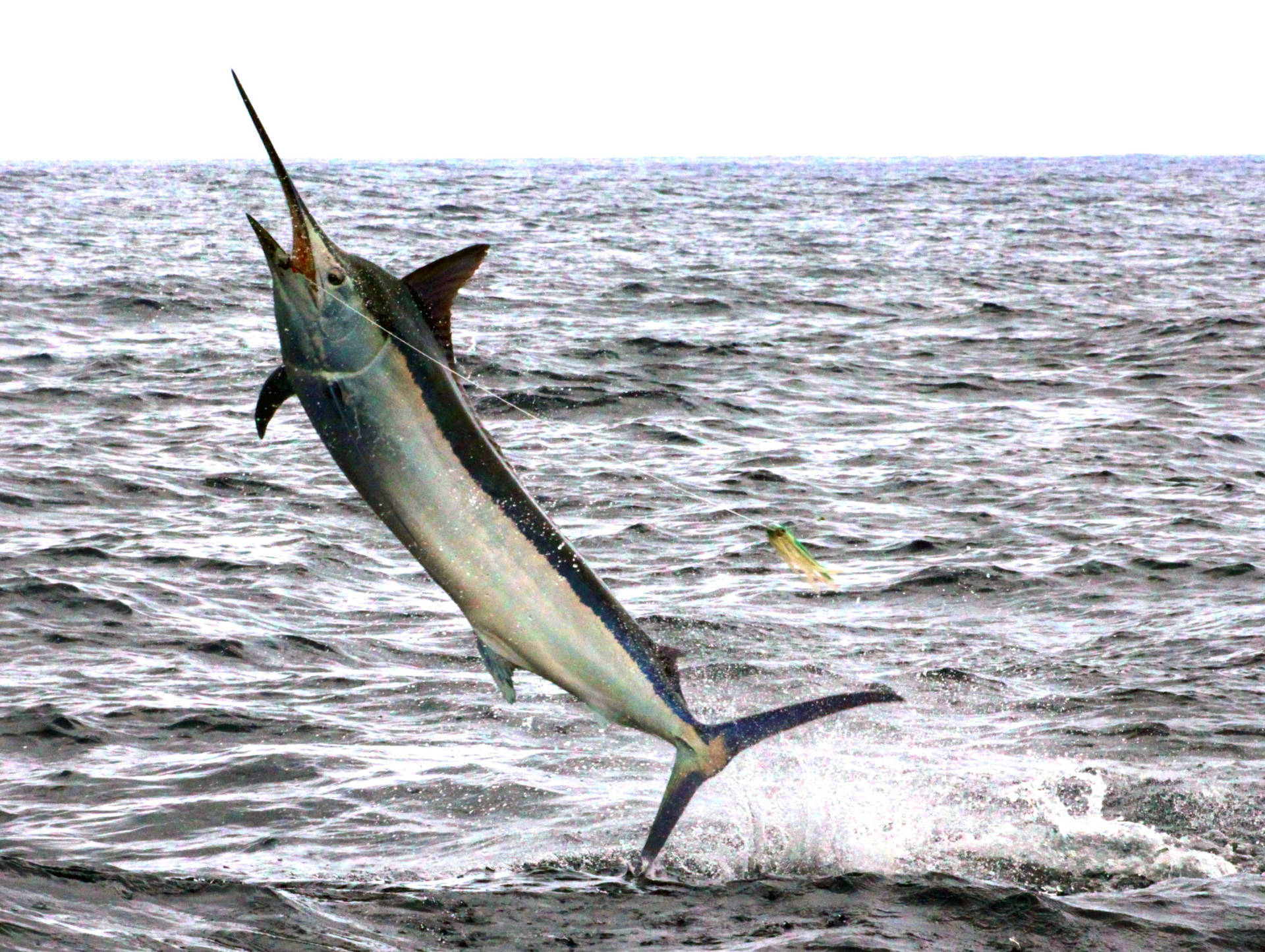 Big Game Fishing aboard Black Marlin with Captain Yann Colas
---
In March 2005, we decide to open our big game fishing centre in Rodrigues Island, a part of Paradise, lost in the middle of Indian Ocean whose nearest coast is Mauritius, situated 600 km Western. Then, we were (and still are), convinced of the fishery potential that Rodrigues could offer, especially beautiful "strikes" to anglers who would honour us with they're coming aboard.
We were wrong ! Rodrigues had more to offer… so much more !
Beginner, advanced or expert ?
Come aboard to catch the fish of your dreams !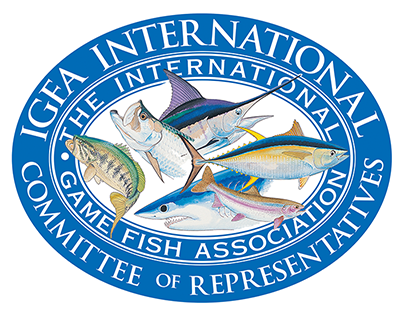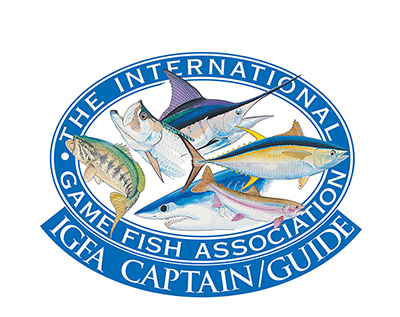 This is not chance, nor luck when one boat collects world records, but this is the precise moment when the experience requirement , preparation and motivation meet the opportunity!
2005
-2005-02-28 Black Marlin arrives in Rodrigues Island.
-2005-03-07/08 First fishing trip of 34h on the Eastern Bank with 2 Swedish customers. 3 marlins. The first blue is released. The second of 340kg is caught by Rikard, while Frederika takes the third one of 143kg, still woman club record. Rikard also holds the yellowfin tuna club record with a fish of 62kg.
-2005-10-22 Jigging has well started and Yann catches a 150kg Whitetip shark.
-2005-11-28 Julien Derozier came for the magazine ''Partir Pêcher''. He is reconciled with jigging! He still holds the catch of the biggest red coral trout (25kg) in this technique.
2006
-2006-02-13 Ileana catches a 73,5kg dogtooth tuna on baiting, current woman club record.
-2006-12-28 Sophie captures a 138,5kg black marlin on trolling, still woman club record.
2007
-2007-01-13 Daniel takes the first swordfish of 73kg on Big Game Fishing in Rodrigues.
-2007-01-30 Stephan beats the pacific blue marlin world record on 80lbs with a fish of 561,5kg on trolling (45mn of fight on stand up).
-2007-04 Yann is designated as Certified Captain IGFA and IGFA Representative for Rodrigues. Rod Fishing Club is also Official Weigh Station.
-2007-10-25 Christian establishes the new World Record all tackle with a dogtooth tuna of 104,5kg on jigging.
-2007-12-24 Jean Jacques beats the worls record of the Two spot red snapper on baiting with a fish of 13,5kg.
2008
-2008-03-16 Paul catches a great Giant Trevally (GT) of 57,5kg on baiting, actual club record.
-2008-11-08 Claudius catches a dusky grouper of 40,5kg on very deep jigging.
2009
-2009-02-11 William captures a 51kg doggy on baiting, junior club record.
-2009-10-30 William catches a 125kg blue marlin on trolling, new junior club record.
-2009-11-12 Bruno improves of 500gr our red snapper record with a fish of 14kg on baiting.
2010
-2010-02-14 William establishes the new junior world record with a giant trevally of 43kg on baiting.
2012
-2012-02-15 Marie beats the feminine junior world record with a dogtooth tuna of 9,5kg on trolling.
-2012-04-15 Jean Philippe catches a nice black marlin of 265,5kg on trolling, new club record.
-2012-04-16 Justine improves our feminine junior world record of dogtooth tuna with a fish of 23kg on baiting.
-2012-10-26 Toni catches a 100.240kg dogtooth tuna on jigging on the Hawkins Bank.
-2012-11-25 Anne Laure lays hands on the Bruno's world record with a two spot red snapper of 14,5kg on baiting.
2013
-2013-03-11 Cécile breaks the feminine junior world record of dogtooth tuna with a fish of 28,5kg on baiting.
-2013-03-12 Marius catches a 19,2kg barracuda on jigging, new junior club record.
-2013-05-09 Thomas (11 years old) captures a black marlin of 102kg on trolling, junior club record.
-2013-12-01/08 The Kazakhstan Team (Serguey & Igor) establishes the new club record of species caught on their trip with 29 different varieties of fishes.
2014
-2014-10-23 Charles takes a 97kg doggy (maybe a 100kg one because it was weighed 17hours later) on baiting on the shelf around Rodrigues Island.
2015
-2015 June to September Black Marlin is refitted (interior, exterior and engines) at Taylor Smith in Mauritius.
-2015-11-27 Louis establishes the new club record with a wahoo of 43kg on heavy spinning.
-2015-12-03 Partnership with D. Dhouailly from DHD Laika agency who came up with Remi Laugier for Seasons chain – 52mn video – "Rodrigues, Paradis des pêcheurs''.
-2015-12-14 Paulus establishes the new dutsch record with a barracuda of 27,5kg on trolling.
2016
-2016-01-09 Lucas (14 years old) breaks our junior club record with a yellowfin tuna of 62kg caught on trolling.
-2016-july Yann is designated Big Game Fishing Club of France.
-2016-11-01: 2 potential world records on category Small Fry (-11 years old) are established on trolling on Black Marlin by 2 cousins:

Zoe 10 years old with a doggy of 16.5kg
Baptiste 10 years old with a doggy of 9.5kg

-2016-12-12 Philippe caught a two spot red snapper (lutjanus bohar) of 15kg on baiting breaking the previous record by 500gr. This one is held by his usual fishing mate Anne Laure.
2017
-On October 30, Mathis Rupert 8 years and half (category small-fry -11 years) goes up a huge dogtooth tuna of 89.5kg on baiting in 25 minutes... Unbelievable! His sizes? 186 cm lenght and 119 cm girth. Tackle used: Melton Kona 50-80 rod, Shimano Tiagra 50 WLRSA reel, Maxima IGFA 80 lbs line, circle hook VMC 9788 n°3 on a whole dead bonito.
-He pulverizes the previous record (9.5kg held by Baptiste Souyris), If this record is approved by IGFA, it will be the 13th Rod Fishing Club world record.
-November 18, Marc Werquin goes up a 200kg blue marlin in 1h (Pedro Custom Rod and Shimano Stella 30000 reel) on heavy spinning trolling. Respect Marco!
-November 18, Marc improves the club record of the seriola (16kg) with a beautiful fish of 25.5kg on jigging by 115m deep. Congratulations Marco! Great day!
-December 18, Armelle Le Coent catches a new female club record with a sailfish of 50kg. Congrats Armelle!
2018
-On May 07, , Francoise Roux caught a 270kg black marlin on trolling on Marlin's Boulevard aftera hard fight of 4 hours (before seeing her dead marlin arrive at the boat, leader tangled in the tail). This is the new women's club record. Congratulations Françoise!
-May IGFA approved the 89.5kg dog tooth tuna in Small fry category for Mathis Rupert. It's also the 13th world record for Rod Fishing club..

2019

-November 14 Chakib Abbadi caught in a 31kg dogtooth tuna by slow jigging on 18/100 braid
-09 to 05 November. The BGFCF team composed of Marc Werquin, Alain Ferrand, and Chakib Abbadi raise to 31 varieties the club record of species caught in 5 days of fishing. Congratulations guys!
-December 06 1st GPS tagging of a blue marlin in the framework of the FLOPPED project in partnership with IFREMER Réunion.

2020

-January 08 An IFREMER team from Reunion Island catches the 2nd xiphias swordfish of 43 kg...
-Mid March 2020 to mid March 2022 Covid no foreign clients..

2022

-12 March Super! finally the recovery !! We thank all our customers for their confidence in having postponed their stay despite the inconvenience caused..
 

In addition to the world records, there are also 234 doggies over 50kg caught aboard Black Marlin since March 2005.
17
Years at Rodrigues Island
241
Dogtooth Tunas over 50 kg
Captain Words by Yann COLAS
Quickly, we realized that we could, and that we even had to, offer to big game fishing lovers a real adventure… "Outstanding" moments demonstrating the full passion we share and that daily leads us to explore, deeper and deeper, this gigantic playground, a true sport fishing tropical Eden.
As it is isolated, with a continental shelf full of underwater structures plus both enormous banks: Voyekov situated 50 nautical miles Eastern and Hawkins 85 nautical miles Western, Rodrigues appears as an exceptional area for big game fishing.
Read more
Diversity and quality of our fishing spots will enable you to catch up to 25 different species of fish such as blue and black marlins, dogtooth tunas, trevallies, dorados, yellowfin tunas, wahoos, sailfish… naming the main ones, and moreover to practice your favourite fishing techniques such as trolling, jigging, popping and baiting (dead and live bait) at the surface as well as deep down.
The 13 world records established aboard Black Marlin by our "anglers adventurers", including the prestigious Pacific Blue Marlin (561.5 kg) and dogtooth tuna (104.5 kg) or also the very first swordfish caught in Rodrigues, are as many great rewards.
Moreover, we shall keep in mind two things. The sharing of these hours looking for these big pieces of fish crossing over the waters of Indian Ocean and our commitment to transmit our passion to youngers… the future "sport fishing class champions" whom will always be welcome aboard. To this end, we remind that Rodrigues is a real "records' mine" for categories like juniors, smallfry, etc…
In order to make you live fully this adventure, we offer you:
- 8 different trips: from 10 hours around Rodrigues, up to 89 hours on the Hawkins Bank, situated 85 miles Western. Of course, you can mix several formulas in order to build the "custom-made" trip of your dreams.Book Now
- The Black Marlin: a very stable boat, with its 30 tons generously well spread over 15 m. long and 4.75m wide. Perfectly equipped to welcome comfortably 8 people (5 anglers and 3 crew members). This tremendous "fishing machine" was specially designed to answer the sport fishing requirements in Rodrigues.
- A very warm and professional crew with 3 bilingual crew-members (French/English), able to unchain several long trips.
- At last, I am a Certified Captain and IGFA representative. My company, Rod Fishing Club is also Official Weighing Station for Rodrigues.
Well, my fellow anglers! Rodrigues still has great fishing moments to offer YOU and new records to be broken. Therefore, come and join us to take a high-adrenalin ride in your passion for big game fishing, and let's live together these extraordinary fishing adventures. You will then understand why our customers often come back.
I hope to welcome you soon aboard the Black Marlin in order we can live together these exceptional adventures.