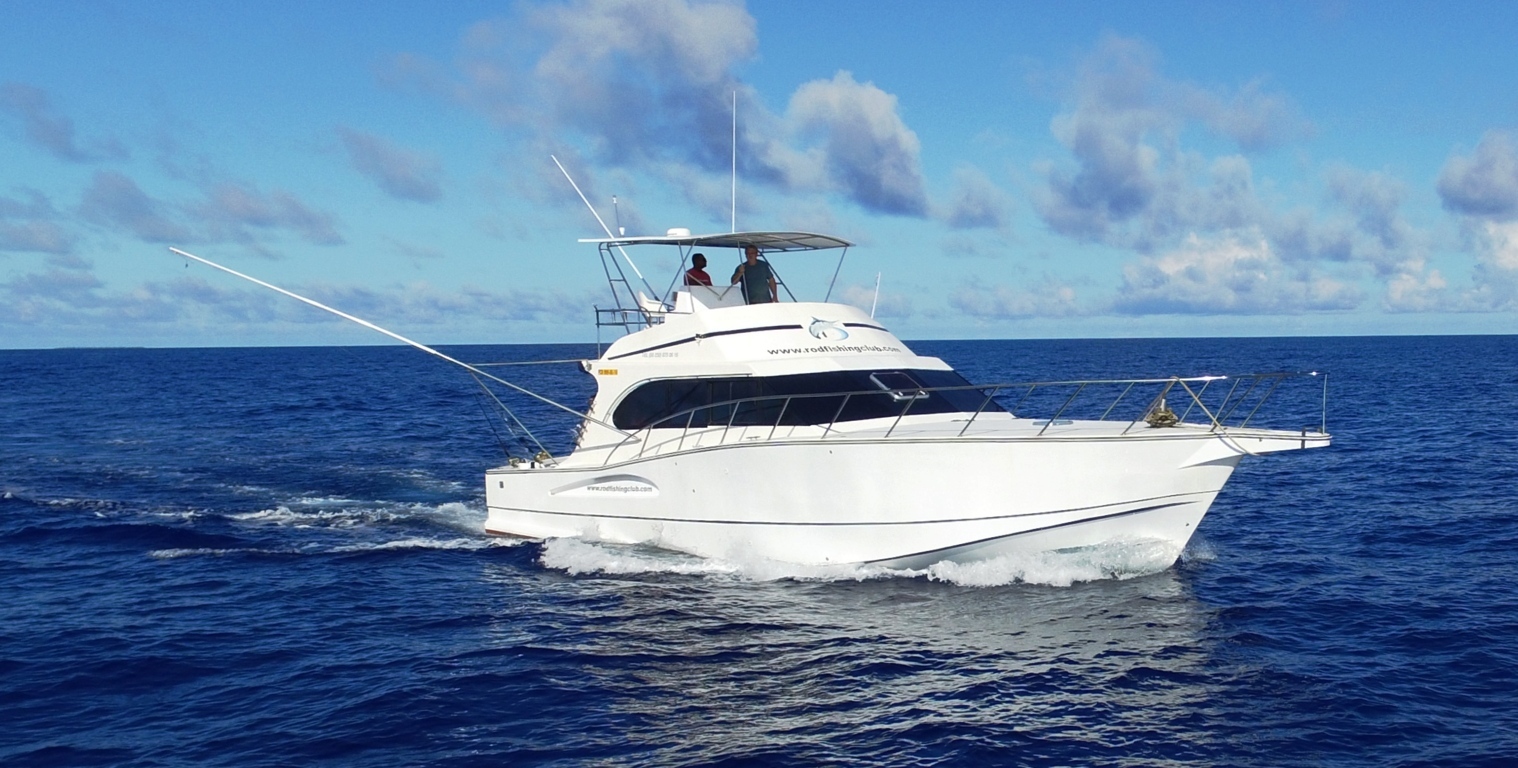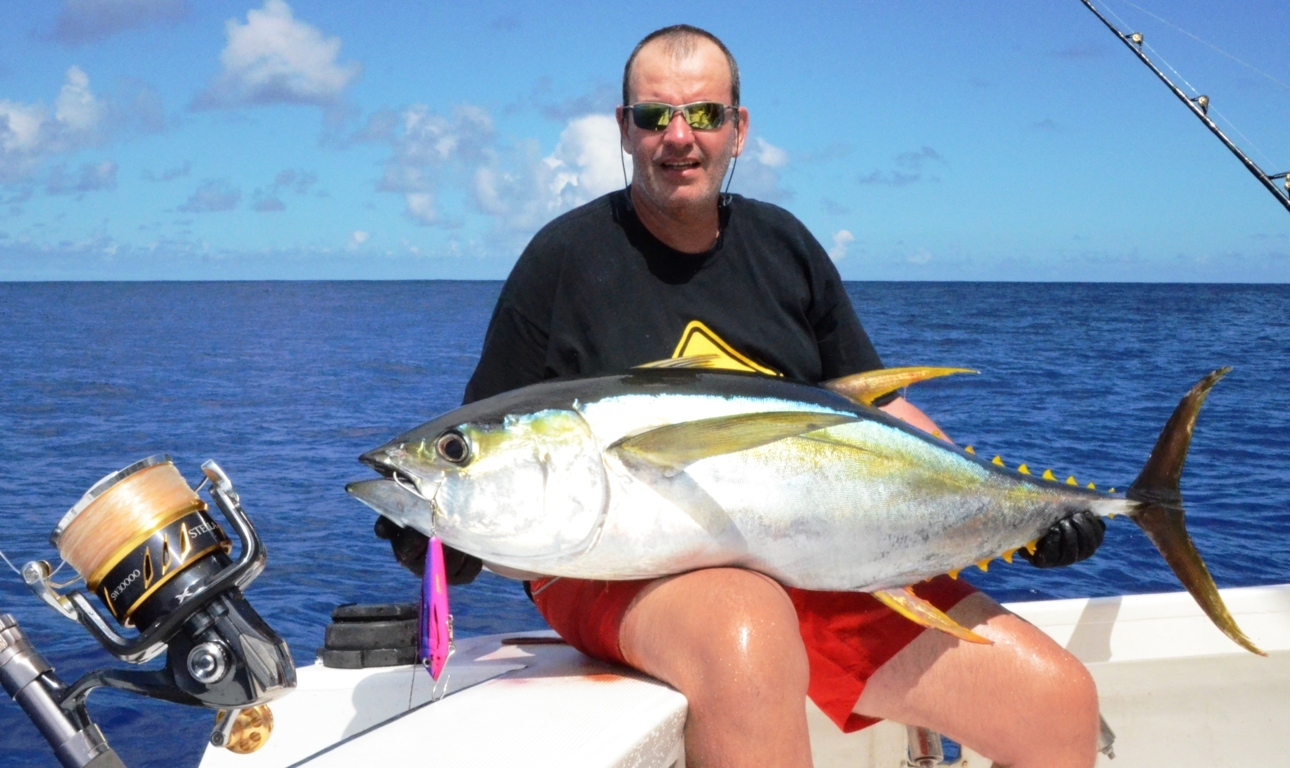 It is the use of "light but resistant tackle" in order to get a maximum of sensations. As a matter of fact, most of jigging or popping customers do not want to use the traditional big trolling rods with their heavy reels like Shimano Tiagra or others we often find on big game fishing boats.
SPOTS
The continental shelf and blue waters around Rodrigues, offshore banks. Some reefs which we cross to reach the banks.
FISH YOU CAN CATCH IN HEAVY SPINNING
Fish caught in "Heavy spinning" are the same as on trolling: black marlin, blue marlin, yellowfin tuna, wahoo and dorado are the main ones. All of these species are present all year long on our fishing area.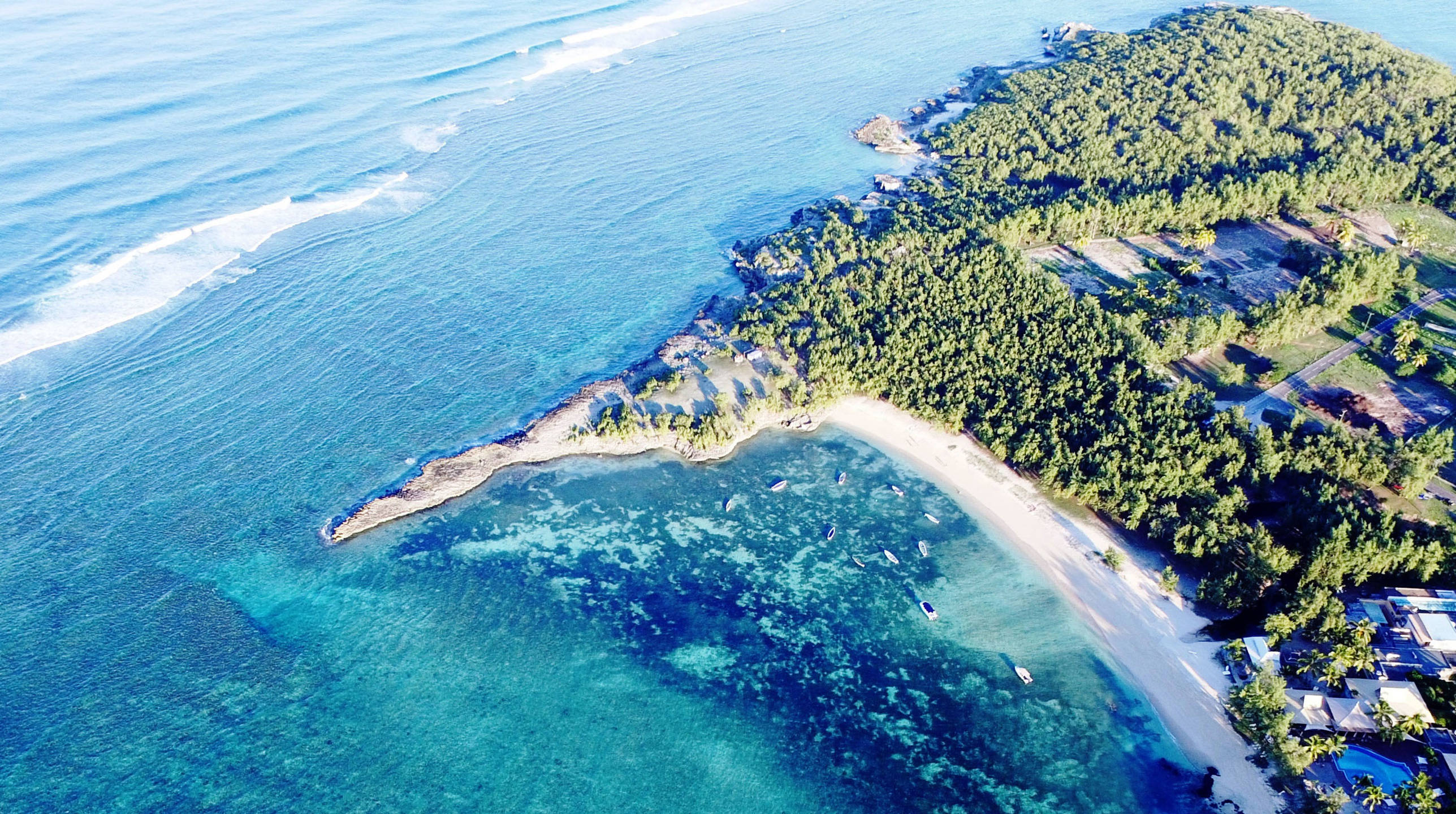 HOW HEAVY SPINNING STARTED ABOARD BLACK MARLIN
Many thanks to Claudius who greatly contributed to develop this practice. Claudius, devoted customer who never missed a season since the beginning of Rod Fishing Club, is a truly jigging and popping passionate. On this basis, he did not much appreciate trolling sessions, not using his jigging tackle. Let him talk:
"Of course, trolling while going from a fishing spot to another, or from a side of the bank to the other is more than wanted. But I'm not a big fan of catching a 20 kg wahoo on the fighting chair. However, I recognize that it is a very fishy practice, which provides satisfaction to some anglers. This is also a good way to look for activity or new underwater structures that may become good playgrounds for jiggers. We had to make it enjoyable as well as useful. My fellow friends had the same jigging passion as I did. It did not take us long to convince the crew we could fish as well with our jigging sets while trolling. The only concession was to leave a pair of big rods on outriggers. One must admit that our small Stella does not have the capacity to troll big lures so far." "The atmosphere immediately changed. Previously, the crew had sometimes to ask for those who wanted to go on the fighting chair for a fight. The interest in this technique multiplied by 10 since, we find the same sensations as in jigging. Thus, approaching the fishing spots, we animate the lures ourselves and leave the strike "live". In fact, we hook the fish ourselves and fights are similar to those in jigging, when we can feel every single movement of the fish thanks to the braid line. The crew's responsiveness enabled to catch a few marlin though, up to 150 kg, yellowfin tunas over 50 kg and of course all the usual contenders such as wahoos, dorados… These great moments surely enable to reconcile trolling fanatics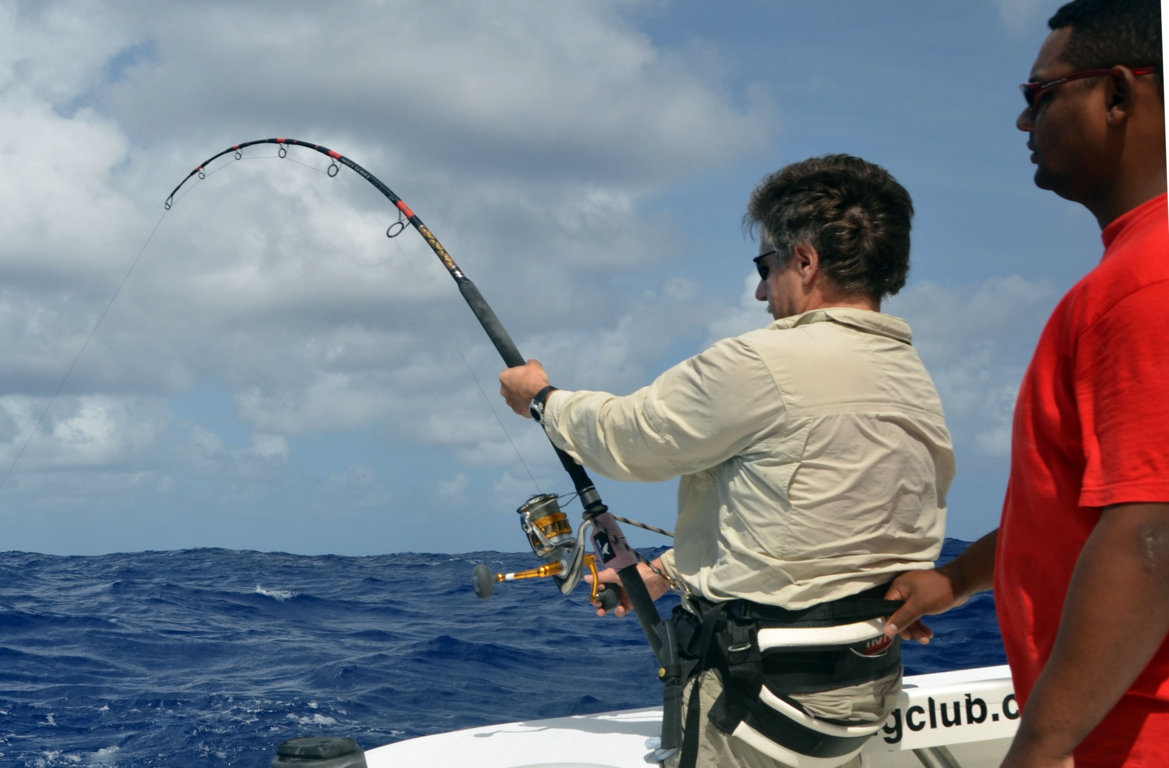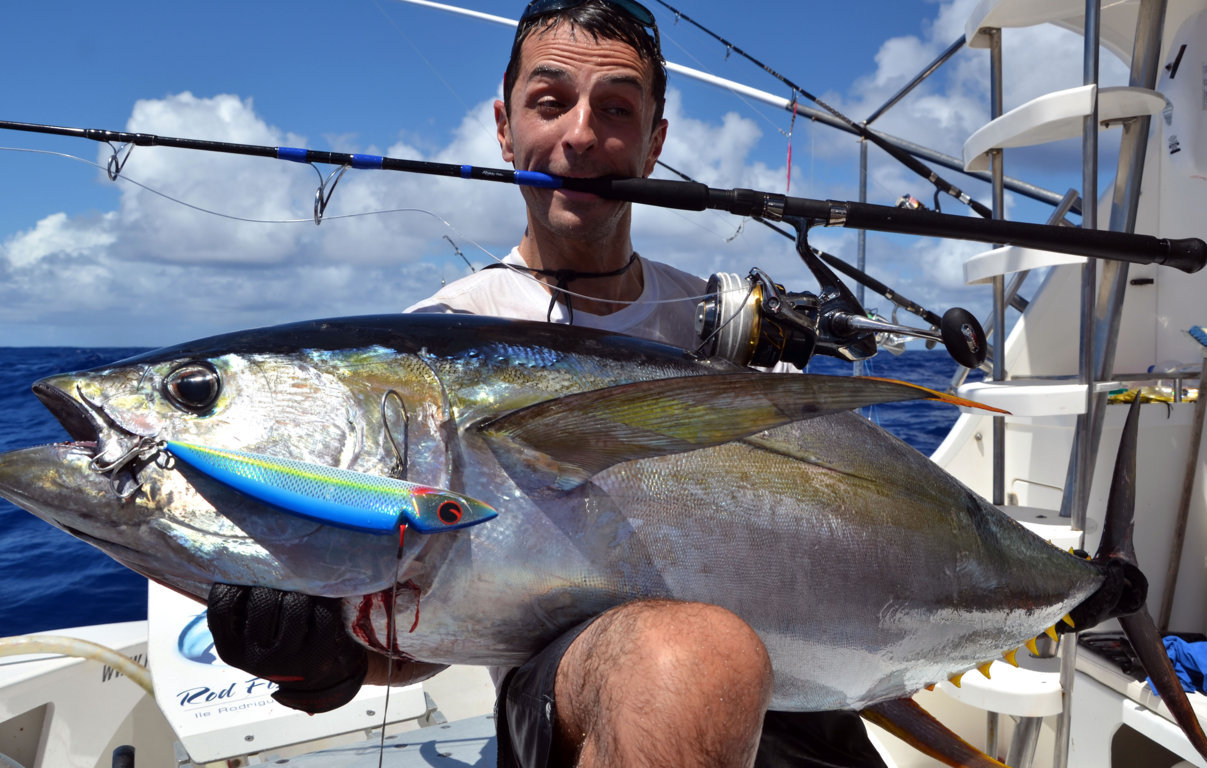 NECESSARY TACKLE TO PRACTICE HEAVY SPINNING

You may use your casting or jigging sets to troll, bait, even with a live bonito and then catch big pieces of fish (yellowfin tunas or marlins). See the section Jigging.
But if you want the Captain's agreement, your tackle requires powerfulness, (for example 80lbs) because on strike, the action can be quite violent and a serious type of reel, such as Shimano Stella for example Stella 20000 or 30000.
With this type of tackle, your sensations will be increased and you will even have the luxury to animate your lure when the crew will tell you that a chase (with birds) is not far, as well as a coral reef or a drifting wreck. A strike "right from your hand" of a beautiful wahoo or a big yellow fin tuna will put you in the mood before reaching jigging spots.
We use the same leaders and lures as for trolling.

THE CAPITAIN'S ADVICE

If you don't have a Shimano Stella 30000, the ideal is to have a customized 20000 spool with a large capacity (about 450m of 80lb braid line).
The fish we catch, trolling or on live bonito, can be considered as "serious contenders". My advice, during fights, is to practice the "short pumping" technique which means: if you cannot manage to pump sufficiently to roll 2 or 3 turns of handle, only one, even half one will be enough.
However, one must crank on in order to put a maximum pressure on the fish. In this technique, our special spinning harness may help you.
On 07 December 2012, Claude PORT – France - captured a nice black marlin about 150kg, trolling on heavy spinning (jigging rod Sevenseas and Stella 20000).
On 27 November 2015, Louis COLLET- Mayotte – caught a 43kg wahoo on heavy spinning with Xrap and became our new club record.
So, are you ready to come "teasing marlin" on heavy spinning?