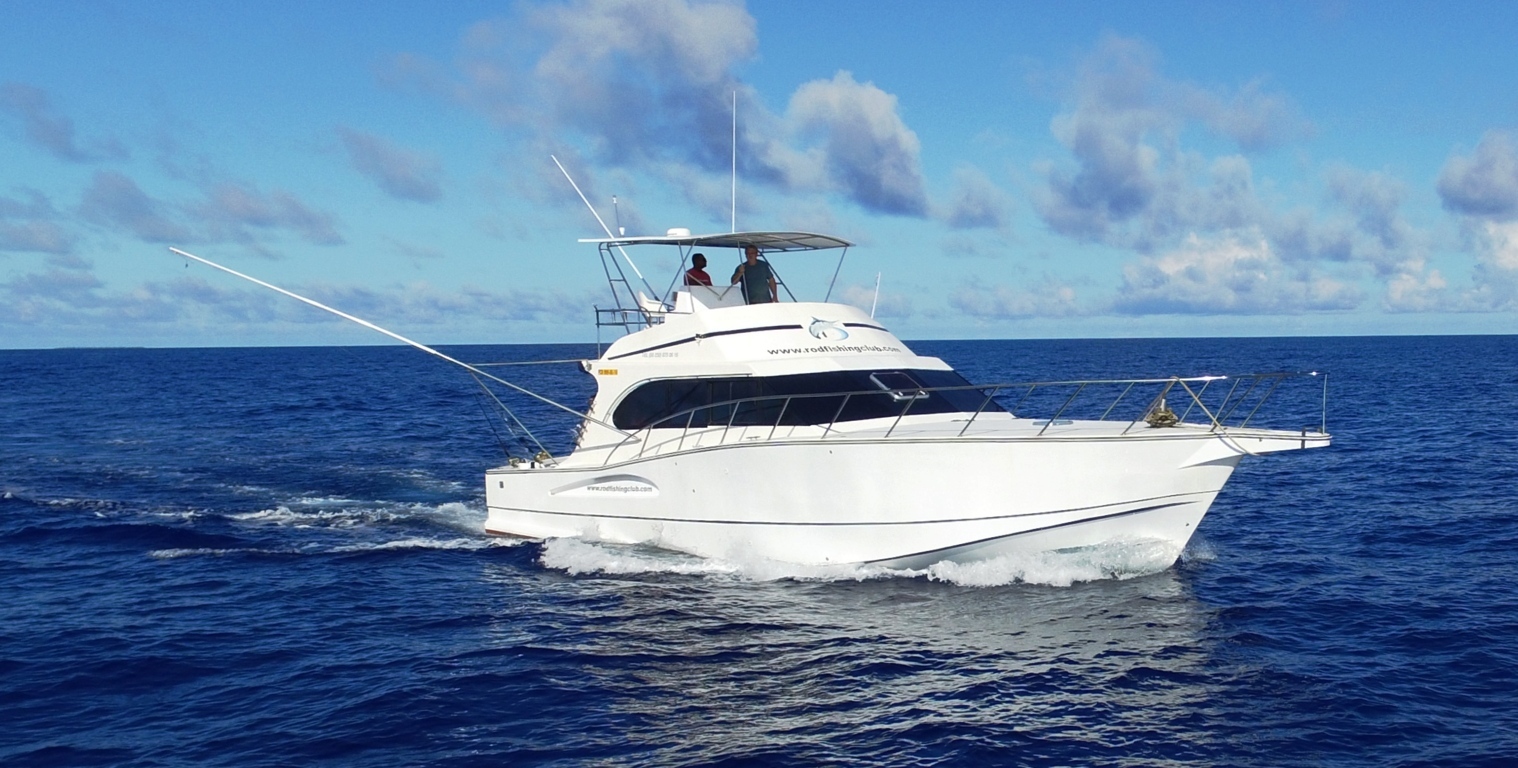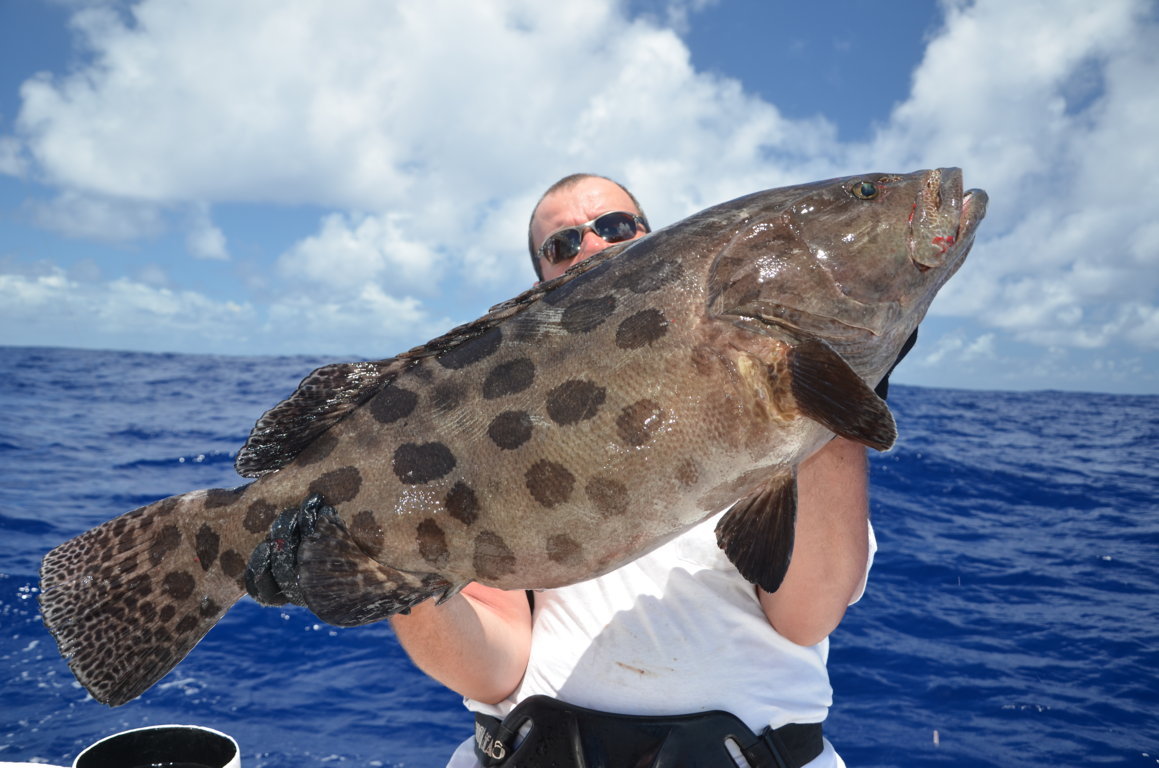 GENERAL INFORMATIONS ABOUT GROUPERS
Groupers live in warm tempered waters (Indian, Atlantic and Pacific Oceans and Mediterranean Sea).
In Rodrigues we are spoilt by the coral reef where external walls go from 0 to 300m deep.
The island is 100km² large. The lagoon is 200km² and surrounded by a large continental plateau, riche abundant in submarine structures (bumps, breaches, holes).
Associated to both banks:
The Eastern Bank called VOYEYKOV, situated 55 nautical miles and offers a surface of 100 km², depth decreasing from 2000m to about 50m.
The Western Bank also called HAWKINS is situated 85 miles off, and is 400 km² large, (4 times Rodrigues' size) depth decreasing from 500m to 50m on one side and from 2000 to 50 m on the 3 other sides.
You can imagine what extraordinary playground groupers benefit!
The name grouper comes from Spanish « mero » which means "alone" characterizing its lonely behaviour.
It exists about 150 species of groupers. If their figure is fluctuating, most of them have a massive body, a big head and a large mouth. Numerous species hold coloured spots, which enable them to hide in their environments.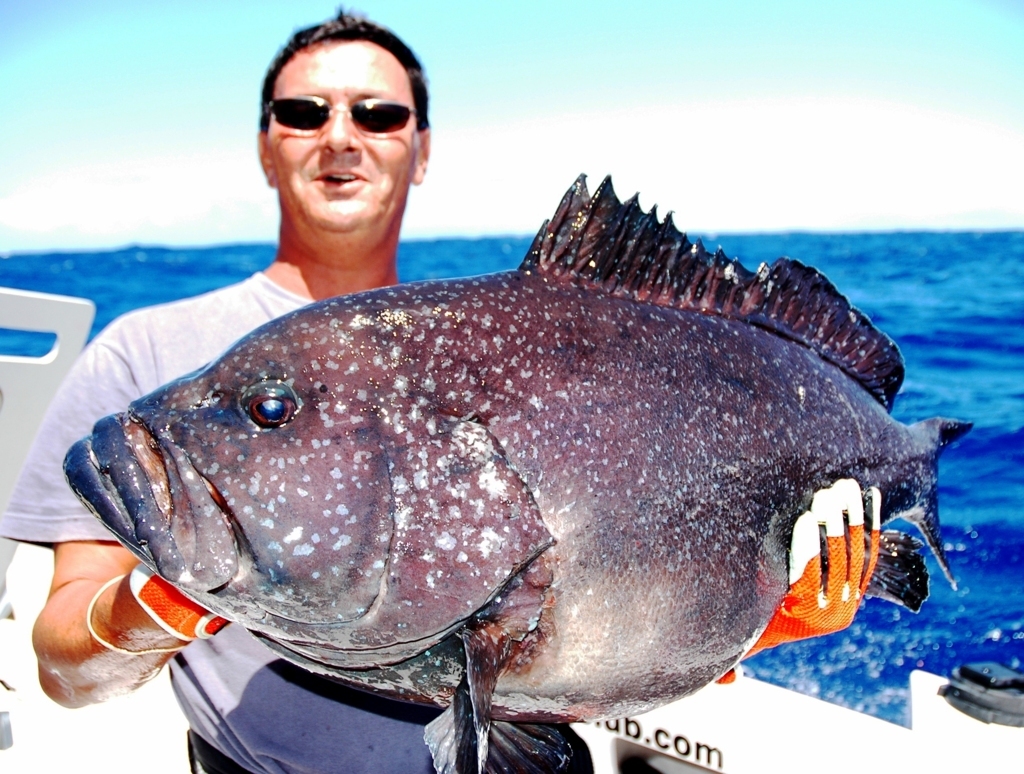 GROUPERS BEHAVIOUR AND REPRODUCTION
Longevity varies according to species: They can live into schools or lonely.
Most groupers come into being as females and become males (protogynous androgynous) along their lives (between 5 and 15 years old according to specie). Some species can reach the age of 40 or 50.
Their growth is rather slow.
Fecundated eggs hatch to give birth to very small organisms (larval stage), which drift in oceanic currents for 1 to 2 months. Out of a thousand larvae, less than 1 survives and achieves to reach juvenile stage in shallow waters, close to the reefs. As they grow, juveniles populate coral reefs and less than 1 out of 100 will become adult.
Generally, for different common species, some reach their sexual maturity at about the third or half of their life expectancy.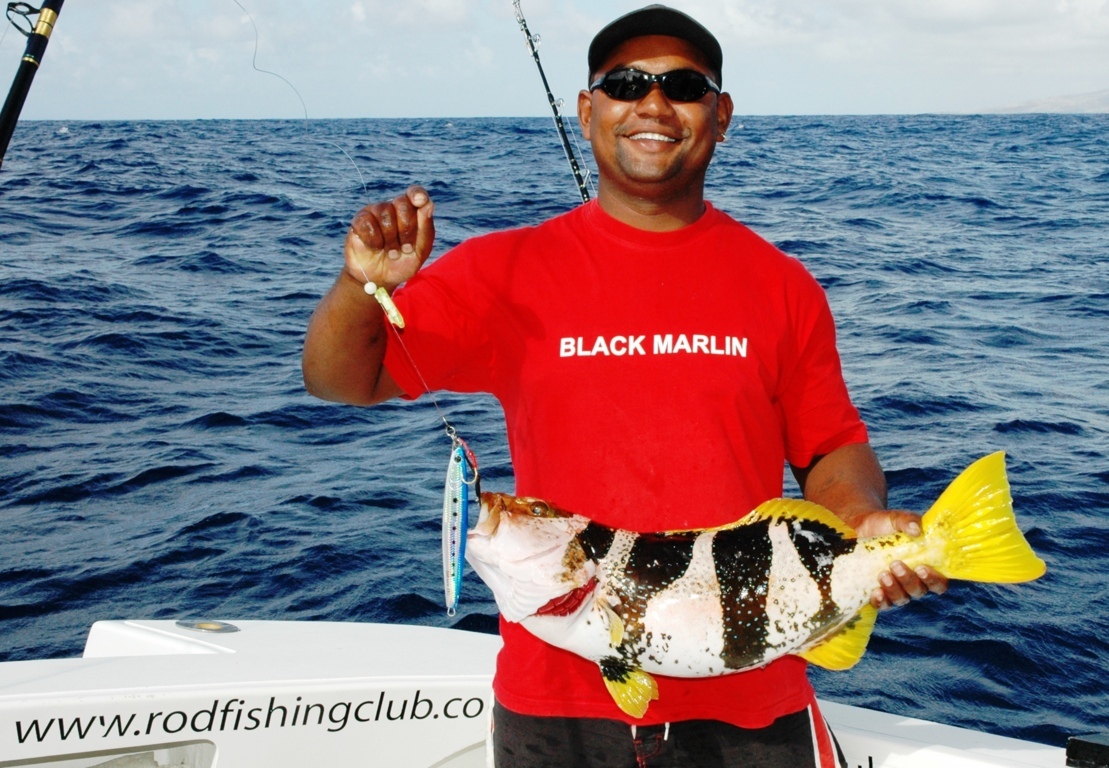 Grouper feeds with fish and also shellfish or molluscs.
When they live in groups, groupers suddenly get out to snatch their preys before coming back into the group where they are safe.
In Rodrigues, you will regularly find these different species:
WHITE-BLOTCHED (EPINEPHELEUS MULTINOTATUS)
GOLDEN HIND (CEPHALOPHOLIS AURANTIA)
COMET GROUPER (EPINEPHELUS MORRHUA)
BROWNSPOTTED GROUPER (EPINEPHELEUS CHLOROSTIGMA)
POTATO GROUPER (EPINEPHELEUS TUKULA)
And 3 others, which deserve a few comments because of their size and colours:
DUSKY GROUPER (EPINEPHELUS MARGINATUS)
RED CORAL TROUT (PLECTOPROMUS PUNCTATUS)
MOONTAIL SEA BASS (VARIOLA LUTI)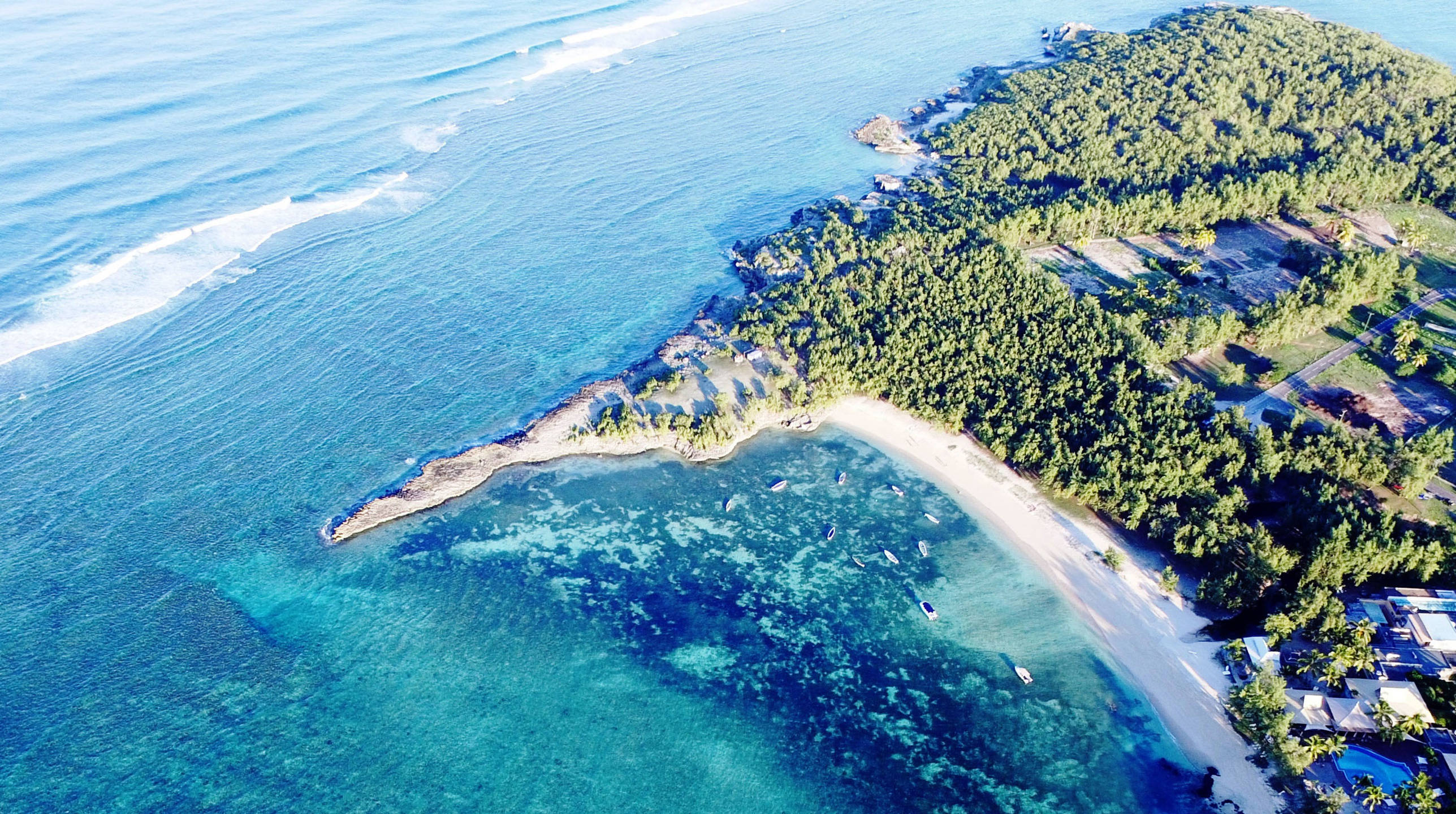 DUSKY GROUPER CARACTERISTICS, BEHAVIOUR AND REPRODUCTION
Its oval and heavy body is covered with small scales.
Its length is 4 times its height.
Its eyes are prominent.
This specie can reach 150cm long for 100kg.
In Rodrigues, we find it on the plateau and also in high depths.
Dusky grouper is protogynous hermaphrodite. Its sex is not determined before the age of 4, at sexual maturity. Between 5 and 12 years old, grouper becomes a female. Afterwards, from 10 to 14 years old (between 60 and 70cm) it becomes male until the end of its life (50 years max).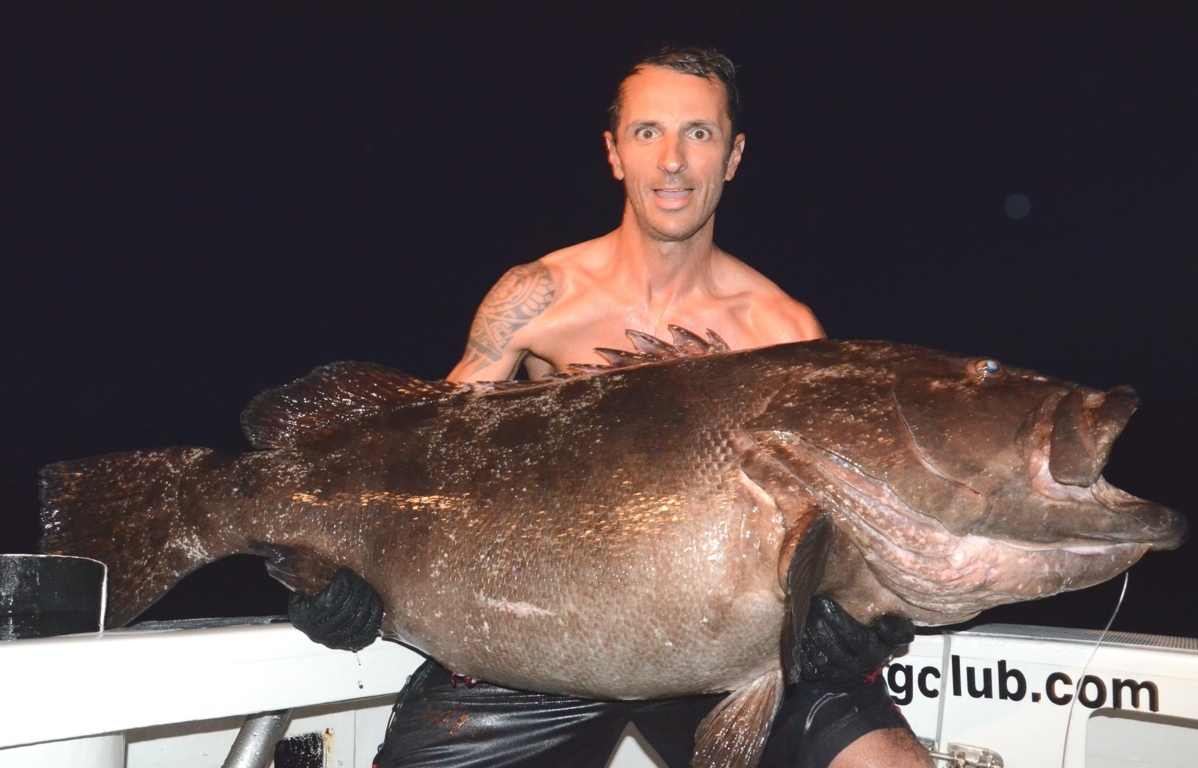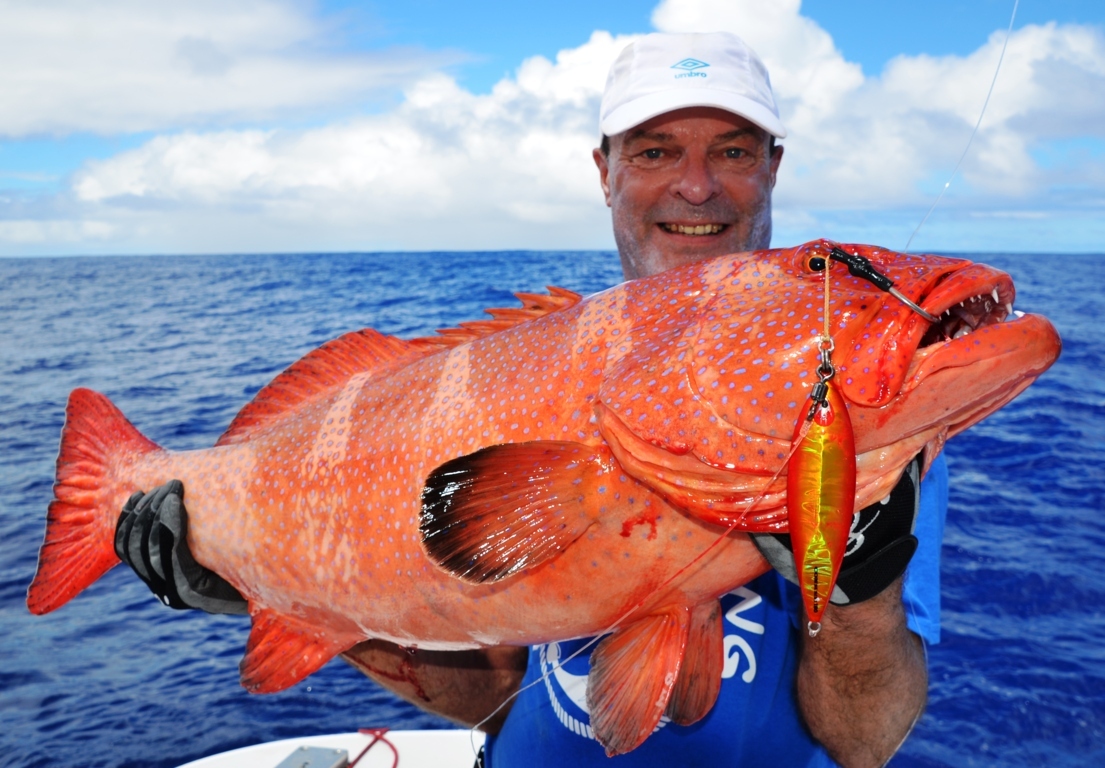 RED CORAL TROUT CARACTERISTICS, BEHAVIOUR AND REPRODUCTION
This is a wonderful fish, sought after, like red snapper for its colours and its combativeness
Its costume can go from a nice pale pink to brick brown through bright red.
Small blue spots spangle its head and body.
It has a sharpened big mouth with largely spaced canines.
In Rodrigues, some species reach 1m long for 25kg.
Red coral trout is protogynous hermaphrodite. It becomes female at the age of 2, about (22cm) and can lay, up to 80000 eggs a year. At 4 years old it can produce up to 450 000 eggs a year.
In Rodrigues, red coral trout is toxic and forbidden to commercialization (it causes scratches or ciguatera).
Its release is therefore systematic and constitutes a stock with nice pieces for anglers who can catch them again, bigger.

MOONTAIL SEA BASS CARACTERISTICS, BEHAVIOUR AND REPRODUCTION
As its name tells it, this splendid luminous grouper is characterized by a tail moon shaped widely boarded with yellow.
Its orange red colour is spangled with lilac spots and small yellow strips.
Its lower jaw is yellow, just as upper boards of its fins.
Juveniles have a long and large purple spot on a very pale body.
It lives in rocky or coral bottoms as well as along external walls between 10 and 150m.
As an adult, it can reach 70 à 80cm long for about 10kg.
In Rodrigues it is not rare to catch pieces of 5kg.
It regularly visits cleaning stations where we can see it, opened mouth, being rid of its parasites by small cleaner fish.
If you eat its flesh you can be intoxicated and get ciguatera.
More interesting to watch than to fight against, this nice fish will let you an undying aesthetic souvenir.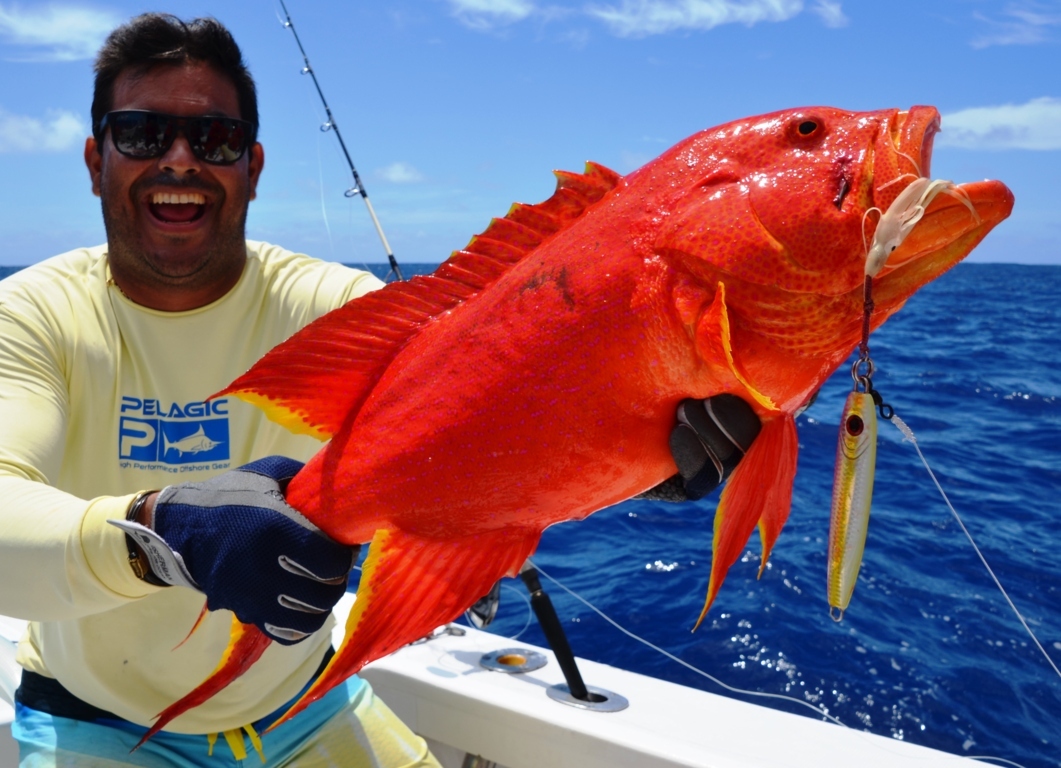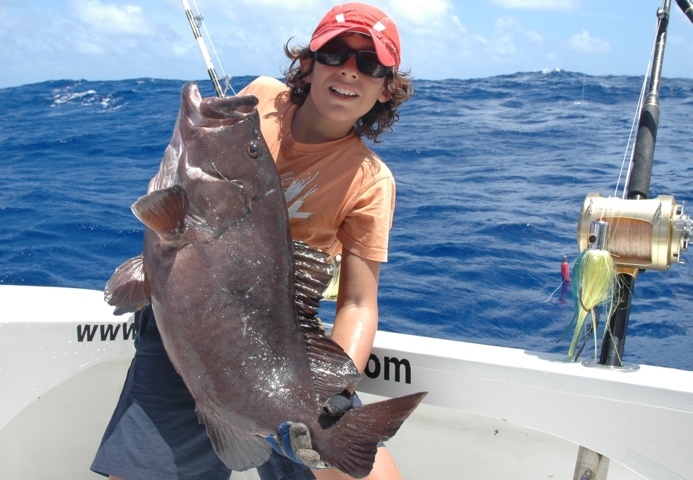 FISHING GROUPERS IN RODRIGUES
All these species are usually caught in two different ways:
Jigging, slowly animating the 10 first meters, starting by the bottom. Madaï jig are efficient.
On Palangrotte, on your jigging tackle with small and medium baits. The use of a circle hook is highly recommended.
Grouper fishing harmoniously completes the fishing day and offers a wonderful colour palette.