Christian, Pascal, Hervé.
What weather! He managed to transform an 82h on the Eastern bank into 2 trips of 37h and 28h for this superb team sharing. Small yellowfin tuna (13kg), wahoos (19kg),dorados and nice barracuda were caught in trolling. Hervé released a sailfish weighing about 30-35kg and Pascal lifted a blue marlin weighing about 150kg.
In jigging Christian caught a nice doggy of 32kg before everyone enjoys jigging and baiting on pretty coral trout groupers and beautiful two-spot red snapper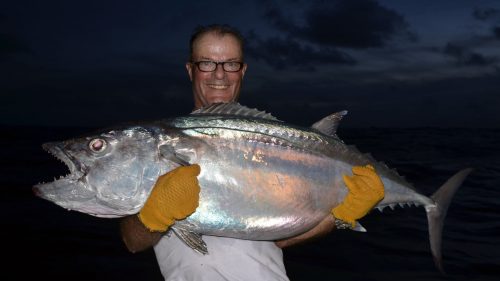 32kg doggy on jigging – www.rodfishingclub.com – Rodrigues – Mauritius – Indian Ocean
A big thank you to these 3 friends anglers whose disjointed stay did not alter the good convivial atmosphere, and who give us their trust by coming back next year.